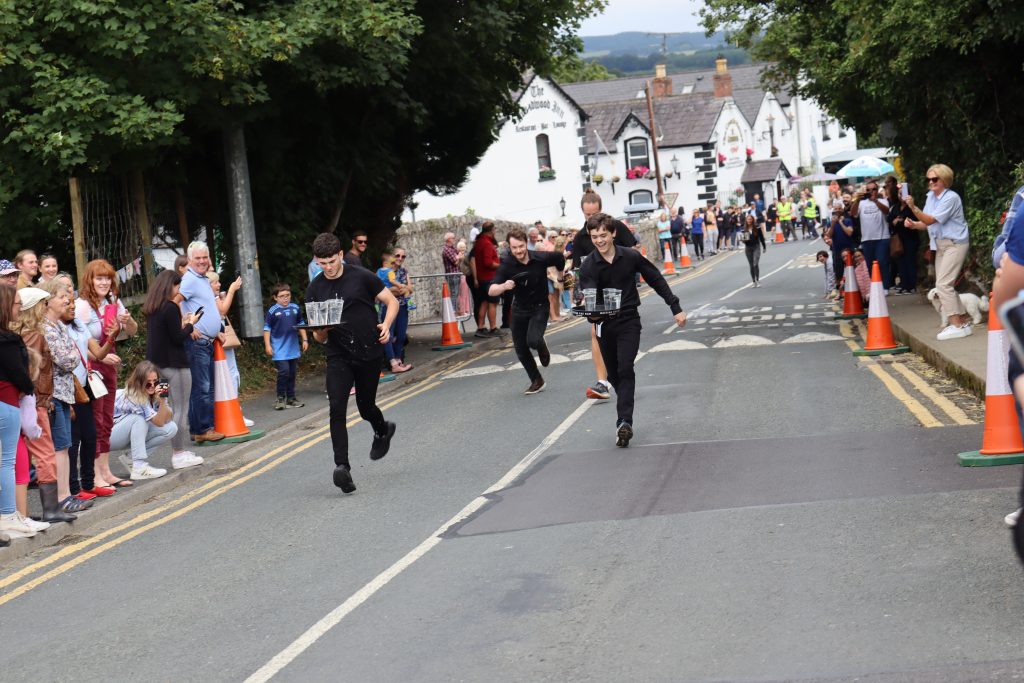 GOLF SOCIETY 
Congratulations to Dave Menzies who won our Captain Simon Carroll's Prize at Wicklow Golf Club on Saturday August 6th. Dave was also the winner of The Willie Byrne Trophy, a great day's golf by Dave who scored 37pts in hot conditions. First: Dave Menzies 37pts, Second: Orla McCarthy 35pts, Third: Aaron Roche 34pts (B9), Fourth: Tony Beckwith 34pts (B9), Fifth George Gaffney 34pts. Class 1 Winner: Peter Ward 33pts, Second: Paul Gaskin 33pts. Class Two Winner: Mick Bolger 33pts, Second John Dowling 31pts. Class Three Winner: Mick O'Reilly 32pts, Second: Robert Scott 31pts. Front Nine: Ciaran Blackbyrne 20pts. Back Nine: Sean Bury 18pts. Nearest the Pin: Denis Healy. Visitor's Prize: Jimmy Carthy 25pts. Congratulations to all the winners.
LOTTO     
Results of the draw held on Sunday 14th August. There was no jackpot winner. The numbers drawn were 2, 17, 20 & 29.  There were two match three winners, McDonnell and No name ticket. Next week's jackpot will be €20,200. 
VARIETY GROUP 
Roundwood Variety Group is holding its AGM at 8.30pm on August 25th in Roundwood parish hall. Everyone interested in getting involved in the production of the next RVG production is welcome to attend.
BINGO 
Roundwood Active Retirement bingo will take place at 3pm in the Annamoe Centre on Sunday the 21st of August. All are welcome.
SHAMANIC DRUMMING  
Shamanic Drumming Circle, 7-9pm, at Turquoise Café, A98 W5C3. First Thursday of every month. A shamanic drumming circle is a place to come with friends, catch up over a cuppa and then connect in an authentic way. This is a particular type of drumming, using a shamanic drum. A steady 4-7 beats per second, will induce theta brain waves to enable us to journey into non ordinary states to retrieve healing, insights and wisdom for ourselves and our community. All welcome, no experience in shamanic journeying or drumming is necessary. If you have a shamanic drum I welcome you to bring it along. You would need to bring a pillow and blanket. This is a non profit event, costs are to cover venue and refreshments. If you would like to know more about shamanic drumming, or if have any questions, just drop Fiona a line on safehaventranspersonal@gmail.com or give a buzz on 087 2989801.  
SOCIAL WHIST  
Results of the Whist held on Wednesday 10th August. Top Score: Tiny Shortt, First Gent: Richie Cullen, Second Gent: Ann Pierce, First Lady: May Kenna, Second Lady: Monica Brady, First Half: Maura McHugh, Second Half: Anne Wolohan, Lowest Score: Patrica Byrne, Longest Sitting: Mollie Byrne. Raffle Prizes won by Patricia Byrne, Tiny Shortt, Marie Magee, Catherine Doyle and Richie Cullen. Next Whist Wednesday August 24th at 8pm in the new parish hall come along and enjoy a night of cards with us.
COUNTRY MUSIC 
Westport Country Music Break 23rd-28th of October 2022. 5 nights 6 days music every night and tours to Achill Island, Galway and Leenane. All in price €499 pp sharing. €100 extra for Singles. Dinner B&B. Deposit of €200 and names before 15th July 2022 and remaining money to be paid in full by 15th of August 2022.For further information, Contact Susan at 087 6273032

SET DANCING   
Roundwood set dancing has resumed on Thursday nights in the parish hall starting at 9pm.  We look forward to welcoming back our usual dancers and also any new comers if they would like to join us, are always welcome. Admission €5. 
  
45 CARD GAME
45 Card Game every Tuesday night in Moneystown Community Centre starting at 8pm. Teas served. All are welcome.
MOBILE LIBRARY 
Wicklow County Council Mobile Library will be in Roundwood Village on Thursday 25th August from 10am until 11.15am and also from 2.10pm until 4.30pm. Come along and join the library. It's a free service and is a fantastic way to pick up any book that suits your reading interests.

LOCAL NOTES 
If you have an item or news that you would like to include in the Roundwood Notes contact Margaret Bolger the email address is mgtbolger@gmail.com