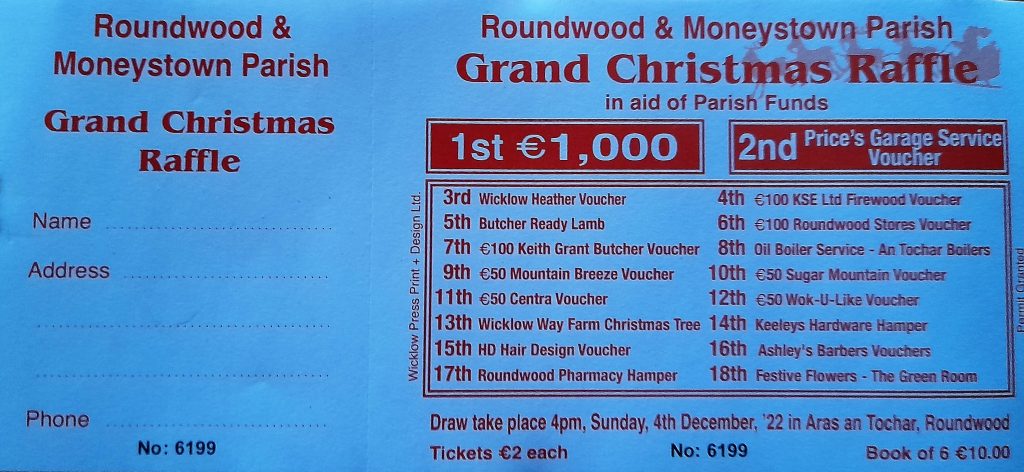 CHRISTMAS LIGHTS 
 
The Christmas lights in Roundwood village will be turned on Saturday 3rd of December after 7pm mass (circa 7:45pm) followed by festive refreshments in Roundwood Parish Hall. Dig out the Christmas jumpers and Sants hats and let the festivities begin! All welcome
PARISH SALE OF WORK 
The sale of work takes place on December 4th from 12-4pm at the GAA Complex. To make this event possible, we are looking for donations for the following stalls. Wine/Spirits/Minerals for the Bottle Stall, home baking etc. for the Home Produce Stall. Toys in good working order for the Toy Stall, good quality Bric A Brac. Donations can be left with Maureen in the Parish Office, Monday – Thursday 8.45am -12.30pm. Also if anyone can volunteer an hour to help set up on Saturday or clean up on Sunday it would be much appreciated. If you require any further information, please contact Liz at 087 6736066.
Tickets for the Parish Grand raffle will hit the streets in the coming weeks. There is a fantastic list of prizes all donated by our wonderfully generous local businesses. Tickets can be returned at the Sale of Work or beforehand, in a sealed envelope into the Roundwood Lotto box above the ATM in Centra or to the Parish office during opening times. Your support is much appreciated.
CANCER SUPPORT 
Roundwood Cancer Support have just launched our new website and can be found at www.roundwoodcancersupport.ie Here you will find out about all our services and up to date information about us. Also, our drop in centre is open Monday and Friday from 10 till 12 in the morning.
WALK CHALLENGE 
 
There is still time to join the Roundwood walk challenge. Leaving Roundwood Parish Hall at 7pm every Wednesday evening. Walks are tailored to the ability of the group so everyone, young and not so young, are most welcome.
LOTTO 
Results of the draw held on Sunday 27th November. There was no jackpot winner. The numbers drawn were ,6 11, 12 & 16. There were eight match three winners, A Gaffney, Joey Hamilton, Cora Byrne, Melissa Colleran, C O'Toole, Alec Wolohan, Mark Burke & Eileen Kennedy. Next week's jackpot will be €24,400.
ACTIVE RETIREMENT 
Senior's Christmas Day out Monday 12th Dec. it includes. A wonderful afternoon of fine dining, music and comedy at the Shamrock Lodge Hotel, Athlone, Co. Westmeath. This cost includes all of the following: Transfer to and from Roundwood, Tea/coffee reception, Music and festive carols with Joe, Frankie and Showcase & special guest Lorraine McDonald, Sumptuous 4 Course Festive Dinner. Comedy with the hilarious Frank Forde shortly after the meal followed by Music with Brendan Shine & his Super Band! (4.00pm-6.00pm) Cost: €75. Contact Mary at 087 6595381
BADMINTON  
We are open for adults Monday and Wednesday at 7.30pm in Aras An Tochar GAA Complex. We are open for Juvenile Secondary School students from 7.30pm until 9pm.
TABLE TENNIS 
We are back at the parish hall on Monday nights 7.30-9.30pm for table tennis all levels catered for. A fun way to keep fit. €5 per night. Contact Brian Higgins 085 118563
SET DANCING  
Roundwood set dancing has resumed on Thursday nights in the parish hall starting at 9pm. We look forward to welcoming back our usual dancers and also any new comers if they would like to join us, are always welcome. Admission €5.
   
45 CARD GAME   
45 Card Game every Tuesday night in Moneystown Community Centre starting at 8pm. Teas served. All are welcome.
INDOOR BOWLS   
In Moneystown Community Centre, continuing every Monday at 8.30 pm. Looking forward to seeing you there. Beginners are very welcome.
MOBILE LIBRARY 
Wicklow County Council Mobile Library will be in Roundwood Village on Thursday 1st December from 10am until 11.15am and also from 2.10pm until 4.30pm. Come along and join the library. It's a free service and is a fantastic way to pick up any book that suits your reading interests.
LOCAL NOTES 
If you have an item or news that you would like to include in the Roundwood Notes contact Margaret Bolger the email address is mgtbolger@gmail.com