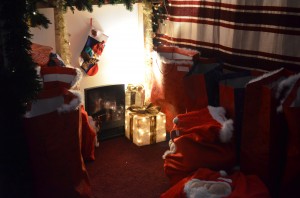 Don't miss Santa's Grotto at the Roundwood & Moneystown Sale of Work, photo by Maureen Cronin
PARISH CHRISTMAS SALE OF WORK
Our parish sale of work takes place on Sunday the 6th December in the Roundwood G.A.A. complex between 12 & 4pm.  Santa will be arriving at 1pm & both our national schools will be performing an array of Christmas Carols on the day.  We have all our usual stalls. flowers, wheel of fortune, bric a brac, bottles, books, toys, home baking & teas.  Fun & games, goldfish, nail art, tattoos & face painting for the kids, & kiddies corner for the toddlers.  You can order your club gear at the An Tochar stall.  Roundwood and District Community Council will have their 2016 calendar available for sale along with information regarding text alert. The monster raffle will be drawn at 3.30pm approx followed by all the other various raffles concluding with the sheep auction. Donations for all the stalls will be very gratefully accepted for further information contact Caroline Sillery 086 1714973.  Come along and enjoy this festive fun day, Santa hats and Christmas jumpers optional.
SET DANCING
Set dancing in Kavanagh's lounge every Thursday night with music this month by Michael and Brian. Do join us on the dance floor for a night of fun and lively banter! All welcome
CHRISTMAS FOOD APPEAL
We appeal to your generosity for NON PERISHABLE FOODS – tins or packets of any type.  Toiletries for adults, children & babies, including baby clothes (which must be new) and nappies.  Items may be left in the boxes provided at the church porch in Roundwood church on Saturday evening or Sunday morning and Moneystown churches on Sunday morning on the following dates, 5th & 6th, 12th & 13th & 19th & 20th December  In anticipation of your kindness and generosity and for taking the time to read this, Thank you.
ART CLASS
Kildare Wicklow VEC is seeking applications from community and volunteer groups who wish to organise classes in the community. A number of people have expressed an interest in Art Classes in Roundwood, however a minimum number of participants is required. If you are interested in joining such a class please call 086 8055040 or email info@roundwood.ie as soon as possible
SPEZET MEETING
Roundwood is twinned with a town in Brittany called Spezet. A group from their Breton Pipe Band stayed with families in Roundwood for a week in 2014. A meeting for anyone interested in travelling to Spezet in 2016 to celebrate the 30th anniversary of the twinning initiative with Roundwood will take place at 7:30pm on Monday 14th of December in Roundwood Old School. All welcome.
ANNAMOE CENTRE
Our Story telling night is on the 11th of December at 8pm.  All are welcome.  Women/Men shed every Wednesday from 10:30am
CHARITY FOOTBALL MATCH
The community of Roundwood are coming together for a under 30s v over 30s charity football match with all proceeds going to the Jack and Jill foundation on the 30th December in Enniskerry Youths Club and afterwards to the Coachhouse Lounge at 6pm for presentation, refreshments and music.  All donations accepted on the day. Everyone welcome.  Queries contact : Luke Ferguson 0868755070 Shane Langrell: 087 4171521
VOLUNTEER OF THE YEAR
Some of you may not be aware but Terry Kavanagh has been nominated for the National Volunteer of the Year Awards.  Terry wants to thanks everyone who nominated him for this Award. He is both shocked and humbled by it all & will admit to a few speechless moments – which you will all know is rare for him! As a result of the Volunteer Ireland nomination his name has gone forward as a finalist for the Better Together 2015 Charity Hero Award. This is a lifetime achievement award – he has been around a bit longer than some of us – which, if he wins, he will donate €1000 to a charity of his choice. To be in with a chance he needs your help. Please use this link http://secure-web.cisco.com/1DHgRiqocnyUDQe5XWq3QeR06dGZtHWW7b5QRnXs7lZMB0MT70qw24a9FyrCFcWFie5jksPTUFmoXCRhlehymKxdjm1dU9S5E5RFj6oqKTOdrvW-pJnZHDkvpoprwiT982KTtTqtpq7KzihD08n3ZLV4dUuOGVXMCpmibyCZc2kZlInD5vcweYQts21oldHLF/http%3A%2F%2F2015.bettertogether.ie%2Fcharity-hero  every day between now and the 4th of December and vote for Terry – He is last on the list, which he hopes is not a bad omen! You can vote for Terry every day.  The judging panel will select a single winner from the five nominees with the most votes. We are aware that we all have busy lives but he would greatly appreciate if you could vote as often as you can & spread the word on his behalf. Many thanks again for your all your kind words & support to date. Keep up the good work!
DIAMOND BRIDGE CLUB
North/South winners on Monday 23rd November were Nancy O'Brien and Monica Brady, Catherine McGillycuddy and Pamela Byrne were 2nd and Gertie Fee and Phil Power were 3rd. 1st for East/West were Kay Plunkett and Maura Gaskin,  Teresa Leahy and Marion Davis were 2nd and 3rd Brid Clancy and  Bridie Nolan.
002 BRIDGE CLUB
The girls Noeleen Redmond and Margaret Bolger won the battle of the sexes on Friday 27th November against  the men Paddy O Brien and Ger Lenihan, 3rd Judy Skates and Joan Shortt and 4th Nancy O Brien and Catherine McGillycuddy.    Monica Brady and Seamus Kennedy played their cards right for East/West,  2nd Maura Gaskin and Bridie Nolan, 3rd Rowena Brady and Maria Magee and 4th Liz Belton and Philomena Kenna.
MONEYSTOWN DANCE
The Wicklow Man will play in Moneystown Community Centre on Friday 11 December from 9.30 pm till 12.  Teas served, mince pies, door prizes, refreshments also available. Come along and enjoy a night of waltzing, jive, etc
CHRISTMAS TREE LIGHTS
Get out your Santa hats and Christmas jumpers and come along to the Roundwood Old School on Saturday the 5th of December at 7.15pm for the official turning on the Christmas tree lights. There will be plenty of minced pies, mulled wine and goodies for those who join in with the carol singing and is a community event to get the village into the Christmas spirit. All welcome
PROGRESSIVE 45
Progressive 45 card game in the parish hall Sunday the 6th December at 7.30pm sharp excellent cash prizes & raffle prizes refreshments served
WHIST RESULTS
The results of the whist are as follows:- Top Score: Patricia Byrne; Top Gent: Lucy Molloy; Second Gent: Pat Fisher; Top Lady: Maura McHugh; Second Lady: May Kenna & Monica Brady  (shared); First Half: Tiney Shortt; Second Half: Jimmy Molloy; Lowest Score: Molly Byrne & Longest Sitting: Kitty Kennedy.  Raffle prizes were won by Ann Wolohan, Tom McHugh, Mary Cullen, Tiney Shortt & Richie Cullen.  Next whist will be on tonight Wednesday 9th December
CHRISTMAS PARTY
Set Dancing Christmas Party in the Mill Room, Kilcoole on Friday December 4th @ 9 p.m By The Avondale Ceili Band
CAR BOOT SALE
The next Roundwood Parish Hall car boot sale will be our Christmas gift and craft fair which is been held on Sunday December 13th stalls opened to the public from 10 a.m. – 4 p.m.  There will be indoor and outdoor spaces available. To book a stall Phone: 087-630807.
LOTTO RESULTS
There was no jackpot winner & no match three winners in last week's draw.  The numbers drawn were 23, 24, 25 & 26.  Next week's jackpot will be €18,200
ATHLETICS AGM
The Annual General meeting of the Roundwood and District Athletic Club takes place on Thursday 3rd December in Aras an Tochar at 8pm.  All welcome to attend so come along and participate.  Nomination papers can be requested from Trisha at trishamolloy@eircom.net.
ATHLETICS
Training on a Tuesday night continues at Aras an Tochar at 6.30 with Anne Marah. So get out your runners and come along to a very enjoyable training session and shed those few pounds before Christmas.
PILGRIMAGE TO MEDJUGORJE
October 5th 2016 for a week. Cost €645.00 per person sharing. Discount of €100.00 off price if paid in full by December 11 th.  Price includes Flights ( Aer Lingus) Insurance , Half Board  Accomadation in House beside Church, Transfers to and from Medjugorje.  For more information / booking contact Mary King on 087 2185067
PRAYER MEETING
Prayer Meeting is held every fortnight in the Parish Centre in Roundwood at 7.30 pm  Dates for November are  24th of November  All very welcome to come along.  For  more information contact Mary King on 087 2185067.