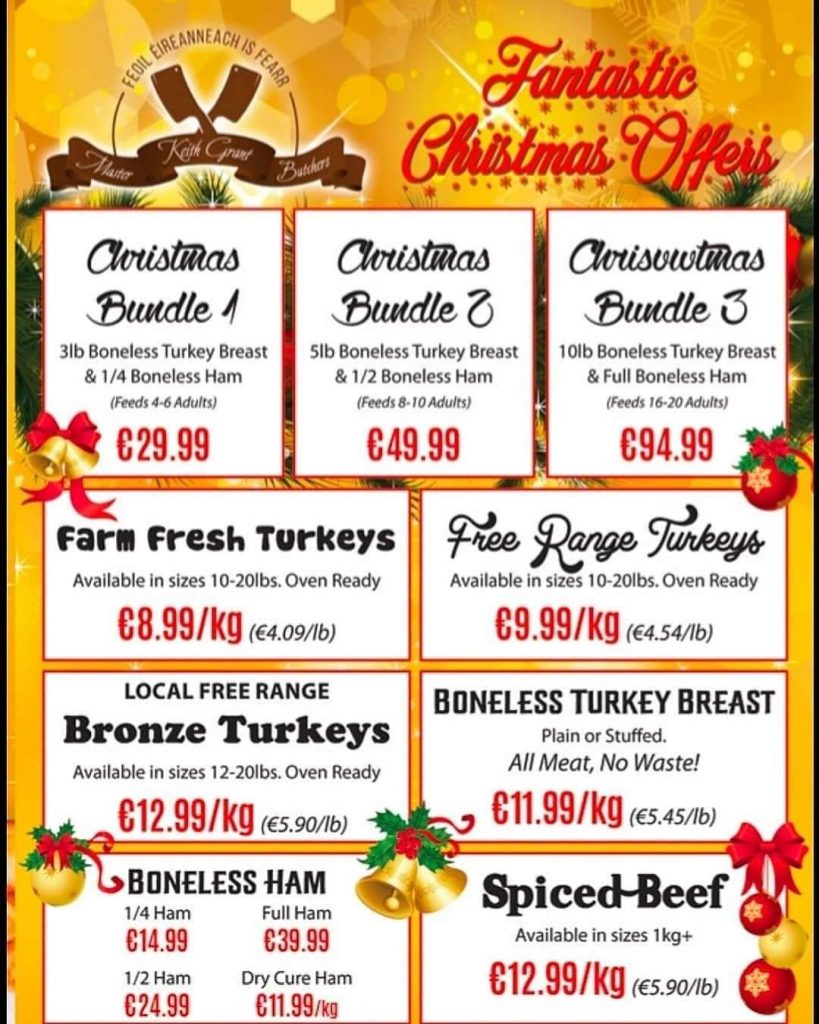 HISTORICAL JOURNAL
The 2020 Roundwood & District Historical & Folklore Society Journal was officially launched on line on the 14th of November and is on sale at the following outlets. It is packed with great articles of local interest. It is now available for sale in the following places; in Roundwood – Keeley's Hardware, Centra, Keith Grant Butchers, Sugar Mountain Cafe; in Laragh at Mc Coy's Store and Filling Station; In Newtown at the Post Office and Eugene's Stores and in Wicklow at Bridge Street Books. It is also available to purchase online, via the website www.roundwoodhistoricalsociety.ie .
FUNDRAISER – CRUMLIN CHILDREN'S HOSPITAL
Melanie Shortt Nolan is running a fundraiser selling Christmas trees and crafts at her house in Ballinastoe, Roundwood on the weekends of the 5th, 6th, 12th and 13th of December. Every tree sold, €10 will be donated to Crumlin Children's Hospital.
SHOP LOCAL
Shop local for Christmas. It's all about community. Please support our local businesses who always generously support our community groups.
ROUNDWOOD MARKET
The Market will be open on Sunday next December 6th, and the following Sundays 13th and 20th December.
PRESCHOOL
Preschool Roundwood area requires an experienced Early Childhood Educator/Deputy Manager. Minimum qualifications QQI Lvl 6, excellent knowledge Aistear/Siolta,Child Protection training, good literacy and computer skills. Cover letter and CV to riaosull@gmail.com.
PURE MILE COMPETITION
Entries are now open for the PURE Mile competition 2021. The Pure Mile is the perfect opportunity for communities and groups who want to make a positive contribution to their locality and environment and assists people in improving and enhancing the place they live or recreate in. Special interest groups such as, walking groups, cycling groups, scout groups, businesses, and organisations, can adopt a mile, or miles of road, in the Wicklow/Dublin Uplands and help Pure to Clean Up The Uplands.
Pure provides all groups with Pure Mile signage, Pure Mile bags, gloves, litter pickers and Pure Mile high-vis vests, and we also remove all of the rubbish collected by the groups. In Miles where very little physical management is required, groups can focus on local research, or, on initiatives to increase awareness and appreciation of the area to the wider community.
Despite the Covid Pandemic this year hundreds of organised litter picks and clean-ups, with the removal of thousands of bags of rubbish from the environment took place (socially distanced of course!). Without the dedicated, motivated, energetic, enthusiastic, and goodwill of the thousands of Pure Mile Volunteers, hundreds of tonnes of illegal dumping and litter would still be sitting on the landscape.
If you fancy taking part or would like further information please check out the PURE Project website http://www.pureproject.ie/the-pure-mile/
ALONE HELPLINE
ALONE, the organisation that supports older people is operating a national support line and additional supports for older people who have concerns or are facing difficulties relating to COVID-19 (Coronavirus) in Ireland. Contact ALONE on 0818 222 024 if you have concerns about your own wellbeing, or the wellbeing of an older person you know. Further information can be found on www.alone.ie.
PARISH OFFICE
Due to Covid Restrictions the Parish Office is closed until further notice. If you require a Priest – Fr. Owen is available on 01 2818149 and Fr. Derek Doyle (Rathdrum) is available on 0404 46229
ROUNDWOOD CANCER SUPPORT


Roundwood Cancer Centre is closed for the time being due to the recent Covid restrictions. Hospital pick-ups and drop off will still continue. For further information please phone 087 6062072 or check out our Facebook page https://www.facebook.com/roundwoodcancersupport
LOTTO
The lotto has been suspended for the moment.
LOCAL NOTES
If you have an item or news that you would like to include in the Roundwood Notes contact Margaret Bolger the email address is mgtbolger@gmail.com