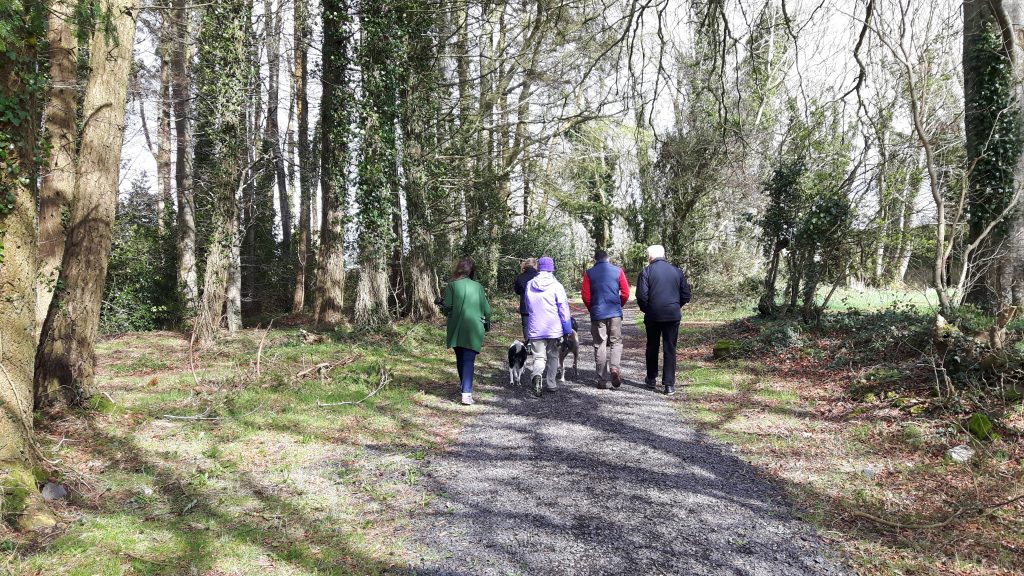 The completion of the Upper Vartry loop walk is the Roundwood & District Community Council's goal for 2017. This will require the restoration of 3km of trails and the construction of three bridges. Walker safety is a huge concern for the committee which is why one bridge at Mullinaveige on the busy Roundwood to Kilmacanogue Road will require 200m of boardwalk to ensure safety for all.
This ambitious target will require a substantial amount of money to complete but the RDCC are well on their way in that department. They have successfully secured a €20,000 grant from the IPB Insurance's Community Engagement Fund.  This funding was secured through a detailed application process followed by a presentation in the company's offices in Dublin and will be specifically used for trail development to complete the loop walk.
In tandem with that and supported by the management of the Vartry Waterworks, the RDCC recently succeeded in their NeighbourWood Scheme application to the Forest Service. This will provide funding towards the management of the woodland area, trail development, way marking and the provision of interpretative map boards and information signage in the Upper Reservoir Dam area. With professional assistance from a qualified forester and ecologist, the work will include exotic removal, tree planting, tree surgery to ensure safety, permanent forest cover and habitat improvement which will greatly enhance the biodiversity of the area, which is a proposed Natural Heritage Area. The area is already a haven for birdlife including great crested grebes, little grebes, teal and more recently home to the less common Little Egret, which resembles a medium sized white heron, often seen foraging for small fish, frogs, snails and insects in the wetlands of the Reservoirs.
In May planning permission was granted by Wicklow Co Council for the construction of a boardwalk bridge to take walkers off the busy R755, the road from Roundwood to Kilmacanogue which is the main route to Glendalough. An application to fund the construction of this bridge and boardwalk has been submitted in June to the Outdoor Recreational Infrastructure 2017 – a funding programme of the Department of Arts, Heritage, Regional, Rural & Gaeltacht Affairs.
The Vartry Reservoirs are a fabulous example of built heritage also. The Lower Reservoir was constructed between 1862 and 1868 by damming the River Vartry valley. To provide additional storage, a second dam, 3.5km upstream was completed in 1923 forming the Upper Reservoir. Their construction was revolutionary in its time. The Vartry Waterworks continues to keep apace of modern technology some 150 years on. It received a highly commended award in the Sustainable Energy Ireland's Category B – Renewable Energy Project for commissioning and installing a small hydro generation project which feeds into the national electricity grid. The construction and operation of the waterworks is of great interest to historians and the general public. The provision of map and interpretative panels will encourage safe access and raise awareness of these important aspects of local heritage.
So there's a lot going on and plenty to see in and around the Vartry Reservoirs so why not take a walk on the recently restored trails. Access the walks from the parking area developed at Knockraheen on the Newtown Road (pictured below)
If you would like further information on the Vartry Reservoir Walks project or the Roundwood & District Community Council (RDCC) please email info@roundwood.ie
June 2017