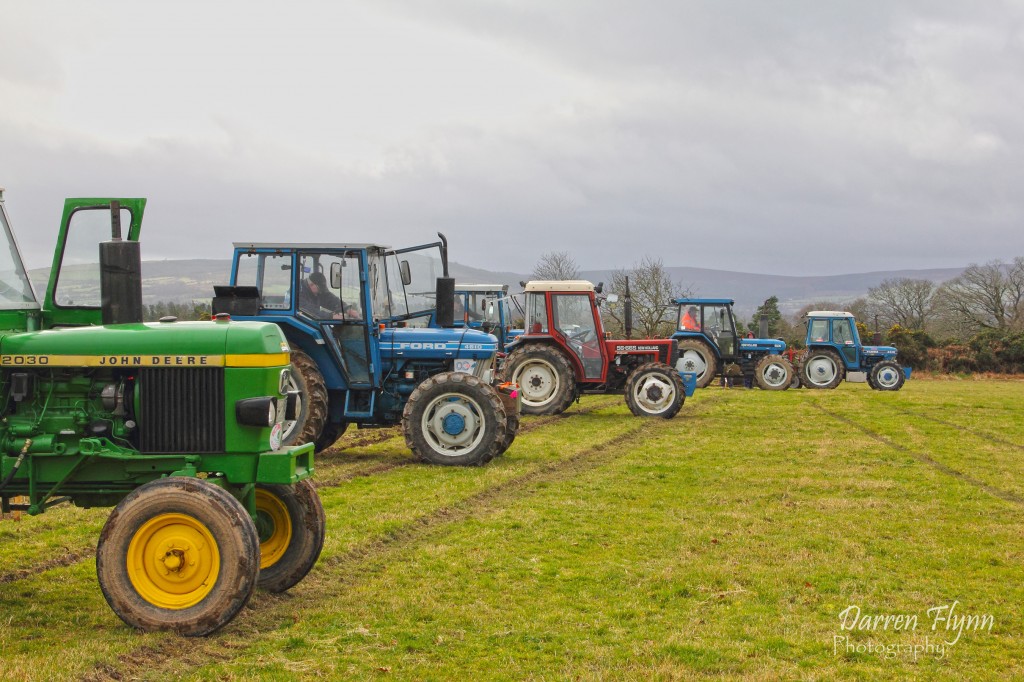 COFFEE MORNING FOR TURKEY & SYRIA 
A coffee morning will be held in Calary Church Room (A98 H766) between 10.30 am and 1 pm on Saturday 25 February to raise much needed funds for the Turkey Syria Earthquake Appeal. There will also be a bake sale, jams and crafts for sale. Bring along a friend and help this cause.
PLOUGHING SOCIETY  
Roundwood Ploughing Society are holding their annual Ploughing Match on Saturday the 25th of February at 12.00 noon at Boleynass Upper, Eircode A67 WP46. Sincere thanks to Eugene Shortt for providing the site. Conventional, Vintage, Classic Tractors and Horse Classes all catered for on Lea ground. Please note all competitors must register by Wednesday the 22nd of February at 6pm with Brendan Power @ 087 2420204. Spectators are always welcome, there will be a Chip Van on site. Many thanks to all our sponsors for their continued support.
SHEEP DOG TRIALS WIN  
Roundwood Man Wins Big at Sheep Dog Trials – Congratulations to Adam Sharkey on winning the Beginners Class at the Three Provinces Nursery Final held in Co. Sligo recently. Representing Leinster, Adam and sheepdog 'Beth' put in a tremendous effort to emerge as winners in their class-well done Adam and Beth!
ROUNDWOOD ACTIVE RETIREMENT
Bingo Sunday March 19th at 3pm in the Annamoe Centre. All welcome.
Easter Lunch Friday 31st of March. Call Mary at 0876595381 if interested, as there are limited places.
ATHLETICS CLUB
 
Athletics Club AGM will take place on Thursday 23rd February at 8.30 p.m. Venue: Roundwood Parish Hall.  All are welcome. 
LOTTO  
  
Results of the draw held on February 19th. There was no jackpot winner. The numbers drawn were 8,11, 16 & 27. There were nine match three winners, A Mulvey, Laura Kavanagh, Christine McCann, Paul & Divine, Cara Doyle, Jim Kinsella, John Nolan, Bernadette, and Hollie Halligan. Next week's jackpot will be €27, 400.
HISTORICAL SOCIETY AGM 
The Roundwood and District Historical Society would like to announce their AGM will be on the 28th February at 8pm in the Parish hall. As well as the formal proceedings of the AGM, we will be inviting past and present members to share any amusing/ memorable memories of society events. All are welcome. We would very much like to hear from you if you are interested in becoming a member of the society or joining the committee. Please ring Jane Pierce on 0858600710 for more information.
ROUNDWOOD PRESCHOOL  
  
Roundwood Community Preschool has a limited number of spaces available for the ECCE programme starting in September 2023. Please contact Emma on 0894384311 or roundwoodpreschool@gmail.com to register your child. You can take a tour of our setting and curriculum here: https://www.facebook.com/profile.php?id=100075794352775 
BRIDGE RESULTS 
Results from 30th January. North South. First Brid Clancy & Monica Brady. Second Gertie Fee & Catherine Halligan. East West. First Maria Magee & Rory Egan. Second Kay Plunkett & John Losher. Results from 13th February. North South. First Maria Magee & Rory Egan, Joint Second Cathreine McGillycuddy & Nancy O'Brien and Seamus Kennedy & Triona Woodroofe. East West. First Brid Clancy & Marie Kavanagh. Second Marion Davis & Teresa Leahy. Well done to all.
SOCIAL WHIST  

Results of whist held Wednesday February 15th. Top Score: Mick Whelan. First Gent (shared) Richie Cullen & Kay Plunkett. First Lady: Maura McHugh. Second Lady: Catherine Doyle. Longest Sitting: Ann Pierce. Lowest Score: Monica Brady. First Half: Mary Pierce. Second Half: Patricia Byrne. Raffle Prizes: Catherine Doyle, Patricia Byrne, Monica Brady, Jimmy Molloy, Ann Pierce, May Kenna, and Mick Whelan. Next whist will be held on Wednesday March 1st at 8pm in the Parish Hall.
PILGRIMAGE   
Pilgrimage Medjugorje: April 22nd 2023, for a week, and October 4th 2023 for a week. Accompanied by Spiritual Director. Cost of both dates € 799.00. Insurance is optional. For more information and booking: Contact Group Leader – Mary King on 087 2185067
45 CARD GAME   
45 Card Game every Tuesday night in Moneystown Community Centre starting at 8pm. Teas served. All are welcome.
LOCAL NOTES   
If you have an item or news that you would like to include in the Roundwood Notes contact Margaret Bolger the email address is mgtbolger@gmail.com