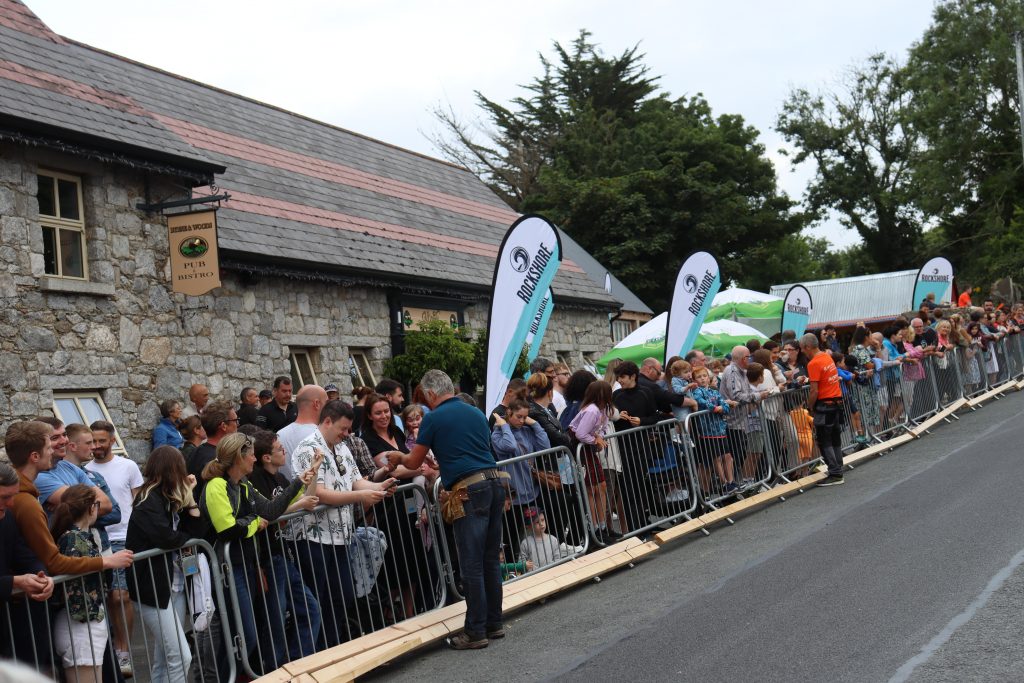 FESTIVAL FUNDRAISER
After a super and very enjoyable fundraising BBQ night organised Byrne & Woods Bar & Restaurant we are delighted to announce the winners of the fundraising draw
1st Prize Husqarva Powerwasher – Hannah Quirke, 2nd Prize Hotel Break – Michelle O'Shea, 3rd Prize Jameson Distillery Tour – Amandine de Charentenay, 4th Prize Guinness Storehouse Tour – Ger Byrne, Glenealy ,5th Prize Wicklow Wolf Tour – Sara & Grace Cullen, 6th Prize Wicklow Wolf Tour – Eamonn Wolohan, 7th Prize Bottle of wine – Teresa Cowman, 8th Prize Bottle of wine – Sam Mooney
A huge thanks to Viv and the great team at Byrne & Woods for organising, to everyone who came along on the night and to those who bought raffle tickets, you all helped raise over 1800 euros for the Roundwood Street Festival 2023. And finally, a big well done and thanks to Joe Synnott and team for the very tasty burgers and hot dogs. Míle buíochas
SUPPER & CONCERT FOR SISTER MARY KILLEEN
Calary Church will again host a Supper Concert in aid of the work done by Sister Mary Killeen in Mukuru, Nairobi on Friday October 7th. Wicklow group, Classic Harmony, an internationally award-winning and acclaimed vocal ensemble will perform on the night. The concert begins at 8 pm sharp after the supper, which is optional and starts at 6.30 pm. Tickets for the concert, which starts at 8 pm, are €18 and €15 for concessions. The additional cost for the supper is €25 per person. For more information or to book tickets, please ring John at (01) 2818146 or email derekneilson11@gmail.com.  
VARIETY GROUP
Workshops for the Variety Group's production of Jack & the Beanstalk take place this Friday 30th September in Roundwood Parish Hall, kids aged 8 to 12 years from 7pm – 8pm, teens and adults 8 – 10pm.
WALKING GROUP
The Roundwood Whizzers walking group continue to walk every Wednesday evening meeting at 7pm at the Roundwood Parish Hall. Everyone is welcome to join in to walk at your own pace for approximately one hour. For further information please email info@roundwood.ie All welcome
MENS SHED
Roundwood Men's Shed: The Shed is open on Tuesdays from 10 to 12 at Pat Carr's place in Knockraheen. For anyone not familiar with the area it is near Special Ops, close to the Ford Bridge. The eircode is A98 AH 02 and the modern phones and vehicles will bring you right to the door. The mention of phones is a reminder that the one-to-one tuition, to help with the learning of of using these new phones and tablets continues in Gael Choláiste Chraobh, Kilcoole on Mondays from 9.55 to 10.55 and a few of our members attend. Presently we are engaging in a Gentle Exercise Programme with the help and guidance of a young lady called Sinéad. Most of the exercises are undertaken from a sitting position with lots of laughter and banter throughout. The exercise session lasts for about 45 minutes and then it is into the tea and chat and Swiss roll and cake to put back on the pounds lost in the exercise session. Recently we had a chat about funerals and funeral traditions. One of the men commentedthat he had a 'burning desire' to be cremated.
BADMINTON
We are open for adults Monday and Wednesday at 7.30pm in Aras An Tochar GAA Complex. We are open for Juvenile Secondary School students from 7.30pm until 9pm. Coaching to follow later in the season.
UKULELE CHOIR
A new Ukulele Choir for adult beginners will start on Tuesday mornings from 10am-11am, in the Parish Hall. Come learn a new instrument, sing for fun and socialise! Contact Linda on 087 9729956 for more information.
WHIST RESULTS
Results of the whist held on September 21st. Top Score Anne Wolohan. First Gent Kay Plunkett. Second Gent Mick Whelan. First Lady Maura McHugh. Second Lady Catherine Doyle. First Half Mary Pierce. Second Half Shay Brady. Longest Sitting Margaret Kennedy. Lowest Score Mollie Byrne. Raffle Prizes won by Mollie Byrne, Mary Pierce, Kay Plunkett, Maura McHugh and Anne Pierce. Next Whist Wednesday October 5th at 8pm in the parish hall. All welcome to come and enjoy a night of cards with us.
TABLE TENNIS
We are back at the parish hall on Monday nights 7.30-9.30pm for table tennis all levels catered for. A fun way to keep fit. €5 per night. Contact Brian Higgins 085 1185635
BINGO
The next active retirement bingo will be held in Annamoe Centre on Sunday 16th October at 3pm. All welcome.
SHAMANIC DRUMMING
Shamanic Drumming Circle, 7-9pm, at Turquoise Café, A98 W5C3. First Thursday of every month. A shamanic drumming circle is a place to come with friends, catch up over a cuppa and then connect in an authentic way. This is a particular type of drumming, using a shamanic drum. A steady 4-7 beats per second, will induce theta brain waves to enable us to journey into non ordinary states to retrieve healing, insights and wisdom for ourselves and our community. All welcome, no experience in shamanic journeying or drumming is necessary. If you have a shamanic drum I welcome you to bring it along. You would need to bring a pillow and blanket. This is a non profit event, costs are to cover venue and refreshments. If you would like to know more about shamanic drumming, or if have any questions, just drop Fiona a line on safehaventranspersonal@gmail.com or give a buzz on 087 2989801.
SET DANCING
Roundwood set dancing has resumed on Thursday nights in the parish hall starting at 9pm. We look forward to welcoming back our usual dancers and also any new comers if they would like to join us, are always welcome. Admission €5.

45 CARD GAME
45 Card Game every Tuesday night in Moneystown Community Centre starting at 8pm. Teas served. All are welcome.
MOBILE LIBRARY
Wicklow County Council Mobile Library will be in Roundwood Village on Thursday 6th October from 10am until 11.15am and also from 2.10pm until 4.30pm. Come along and join the library. It's a free service and is a fantastic way to pick up any book that suits your reading interests.

BOWLING
Bowling has resumed every Tuesday night at 8 pm in the Annamoe Centre. New members always welcome. A great way to meet new people and participate in leagues.
TENNIS
The Annamoe Centre tennis court is available to rent for singles play at €5 and doubles play at €8 per hour. Saturday between 2 and 5 pm is reserved for adult players wishing to join a group. Bookings and enquiries by text to 086 805 7431.
KINESIOLOGY
Available at the Annamoe Centre www.rosaleendurkin.com or 087 219 5931.Nutritional and Educational Kinesiology for children and adults. Assists with: digestive issues, skin conditions, low energy levels, sleeping issues, anxiety and stress management, AD/HD and dyslexia.
CRYSTAL THERAPY
Hummingbird Haven Crystal Therapy. 1:1 appointments in the Annamoe Community Centre for Reiki and Crystal Healing therapy. An alternative & holistic approach to healing the mind, body & soul with Crystal infused Reiki. Combing both the crystals and Reiki together we work on balancing the main energy centers of the body known as the chakra's. This is a beautiful noninvasive treatment that has a bucket full of benefits to the body, mind and soul. For more information Contact Sue – 0872750335 hummingbirdhaven01@yahoo.com
PHYSICAL THERAPY
Available at the Annamoe Centre – Louis 087 915 8180. Occupational and sports injury treatment, sports massage and dry needling.
LOCAL NOTES
If you have an item or news that you would like to include in the Roundwood Notes contact Margaret Bolger the email address is mgtbolger@gmail.com