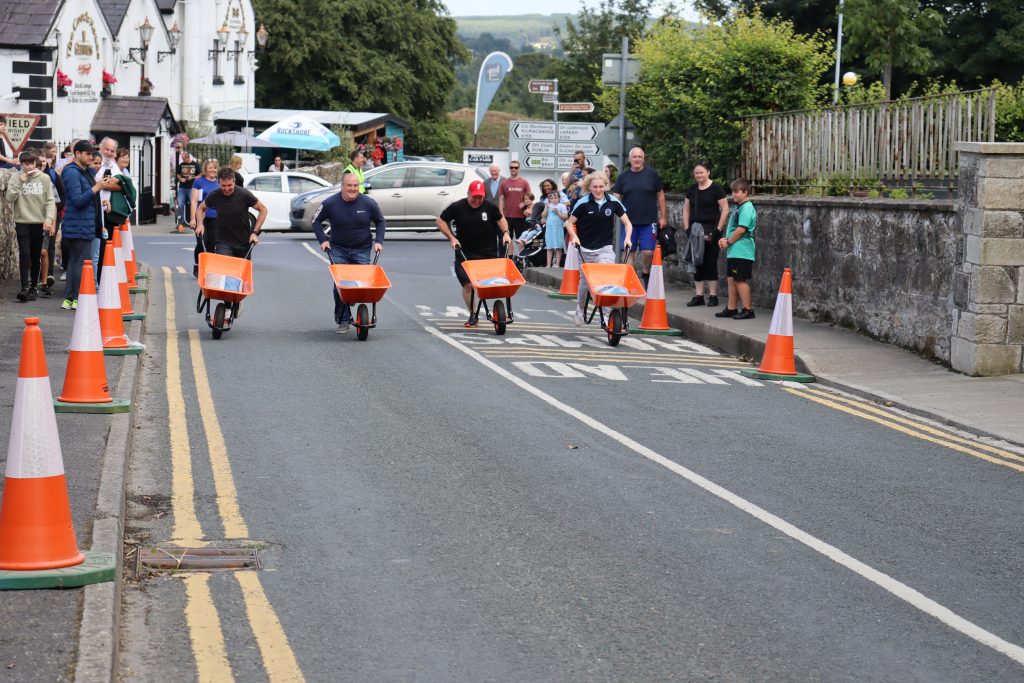 CANCER SUPPORT 
A huge thank you to Dave Lawless who completed his charity fundraising cycle. We received half of the proceeds and the other half went to Wicklow Hospice. Well done Dave. We are so appreciative of your hard work and very generous donation. We will absolutely put this money to good use. On that note, please make sure to avail of all the services provided. It's a great asset to the village and surrounding areas. We are open on Mondays from 10 a.m. until 12 p.m. and Fridays from 10 a.m. until 12 p.m. We have wonderful volunteers who are always there to help. We can be contacted anytime on 086 1534011.
CASTLEKEVIN 
The Heritage Week event on Castlekevin last week in the Roundwood Parish Hall caused some lively discussion. The preliminary results of the professional archaeological non-invasive surveys showed some interesting features, raising many more questions. This work was made possible by Community Monument Funding this year to Roundwood and District Historical Society. The Society was concerned about the rapid deterioration of Castlekevin. Built by the Anglo-Normans, the  castle was the epicentre of a ferocious struggle between Gaelic Irish and the Colonists – an important part of late medieval Irish history in Wicklow.
LOTTO     
Results of the draw held on Sunday 21st August. There was no jackpot winner. The numbers drawn were 10, 22, 24 & 27.  There were two match three winners, Ann Coster and Ayman Alzaibi. Next week's jackpot will be €20,500. 
ROUNDWOOD & DISTRICT MENS SHED
The Shed continues to meet on Tuesdays from 10 to 12 at Pat Carr's place in Knockraheen. We listen and care and share and tell stories to beat the band. There is always a supply of calorie free cake and biscuits and there is no ration on the tea bags. Recently we engaged in a series of breathing and physical gentle exercises and the members really enjoyed the activity. We plan to have a further series of gentle exercises beginning in early September so watch this space for further details. We are also planning to plant some more native Irish trees along the Vartry Trail so new blood is badly needed to dig the holes and erect stakes and protective wire to protect the saplings. Some of us are still in recovery mode from the 'gentle exercises'. 086 8650588 for any further information .The mobile number is a reminder that we are regularly helping each other in the Shed on how to use the mobile devices which have changed the world. There may be someone out there who would be willing to come along and give us a bit of guidance. With so much activity 'online' at the moment most of us would be lost without a little help. We engaged in 'one to one' tuition with transition year students in the past and we plan to explore this possibility again in September when the schools reopen.
VARIETY GROUP 
Roundwood Variety Group is holding its AGM at 8.30pm on August 25th in Roundwood Parish Hall. Everyone interested in getting involved in the production of the next RVG production is welcome to attend. 
SOCIAL WHIST  
Next Whist Wednesday August 24th at 8pm in the new parish hall come along and enjoy a night of cards with us.
COUNTRY MUSIC 
Westport Country Music Break 23rd-28th of October 2022. 5 nights 6 days music every night and tours to Achill Island, Galway and Leenane. All in price €499 pp sharing. €100 extra for Singles. Dinner B&B. Deposit of €200 and names before 15th July 2022 and remaining money to be paid in full by 15th of August 2022.For further information, Contact Susan at 087 6273032
 
SET DANCING   
Roundwood set dancing has resumed on Thursday nights in the Parish Hall starting at 9pm.  We look forward to welcoming back our usual dancers and also any new comers if they would like to join us, are always welcome. Admission €5.

45 CARD GAME 
45 Card Game every Tuesday night in Moneystown Community Centre starting at 8pm. Teas served. All are welcome.
MOBILE LIBRARY 
Wicklow County Council Mobile Library will be in Roundwood Village on Thursday 25th August from 10am until 11.15am and also from 2.10pm until 4.30pm. Come along and join the library. It's a free service and is a fantastic way to pick up any book that suits your reading interests.

ACTIVE RETIREMENT BINGO
Bingo recommenced after summer break on Sunday 21st August and will continue on every third Sunday in the month at 3 pm in the Annamoe Centre. All welcome
BOWLING 
The new season starts weekly from Tuesday 6th September at 8 pm in the Annamoe Centre. New members are always welcome. A great way to meet new people and participate in leagues.
STORYTELLING EVENINGS 
A firm favourite. Great stories, poems and music followed by tea and scones and a raffle. Friday 16th September in the Annamoe Centre at 8 pm. All welcome to listen or join in with their own stories, etc.
TENNIS 
The tennis court at the Annamoe Centre is available to rent for singles play at €5 and doubles play at €8 per hour. Saturday between 2 and 5 pm is reserved for adult players wishing to join a group. Bookings and enquiries by text to 086 805 7431.
KINESIOLOGY 
Available at the Annamoe Centre www.rosaleendurkin.com or 087 219 5931. Nutritional and Educational Kinesiology for children and adults. Assists with: digestive issues, skin conditions, low energy levels, sleeping issues, anxiety and stress management, AD/HD and dyslexia.
PHYSICAL THERAPY 
Available at the Annamoe Centre – Louis 087 915 8180. Occupational and sports injury treatment, sports massage and dry needling.
ROOMS & SPORTS HALL FOR HIRE 
Our sports hall in the Annamoe Centre has available slots for use from September for keep fit, yoga, dance etc. There is one office with broadband (suitable for remote working 1 person) and two available meeting rooms which can also be hired on an hourly basis. Enquiries to: annamoecentre@gmail.com New committee members most welcome. 
LOCAL NOTES 
If you have an item or news that you would like to include in the Roundwood Notes contact Margaret Bolger the email address is mgtbolger@gmail.com