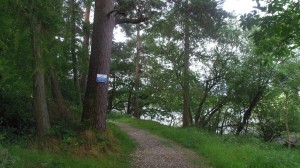 ROUNDWOOD & TOMRILAND  ~ PURE MILE WINNERS
The Roundwood & Moneystown area featured well in the prizes at the Pure Mile 2015 Awards in the Brook Lodge Hotel recently. The Roundwood Pure Mile was awarded the Best Natural History Pure Mile Award at the ceremony while the Tomriland Pure Mile received the highly commended Litter Free Award. A huge amount of work took place in both areas as evidenced by the photographs on show on the night.  Well done and thank you to all involved – a credit to our community.
ROUNDWOOD CALENDAR
It's that time of year again when the call goes out for photographs for the Roundwood 2016 calendar. The calendar has been a great success for the last two years and with your help the 2016 version will be just as great. Please email photos that you would like to see grace the walls of Roundwood and beyond to info@roundwood.ie or call 086 8055040 to arrange collection.
KILMACANOGUE  HISTORY  SOCIETY AUTUMN PROGRAMME 2015
October 6th, Living in Synge Country with Nicholas Grene, November 3rd, Glendalough Churches with Chris Corlett and December 1st,Georgian Dublin in Maps with Rob Goodbody in the Glenview  Hotel, Glen of the Downs at 8.30pm (first Tuesday of month)
Entry €3 (members €2) – all welcome. Website:         kilmacanoguehistorysociety.com
COMMUNITY COUNCIL
The next Roundwood & District Community Council meeting takes place on Monday the 12th of October at 8pm in Roundwood Old School. All welcome
COFFEE DAY
In aid of the Lee Timmons Leukaemia Benefit fund. Friday the 9th October in Roundwood Parish Hall from 9.30 onwards. All Donations gratefully received. If you can't make it on the day and would like to contribute, donations can be left in with Mary Cullen (087 – 6857833), Catherine Wheatly (087 6507644) or into the Parish Office. Raffle on the day also. Join us and support this worthy cause.
CAR BOOT SALE
The next Parish Hall Car Boot Sale will be held on Sunday October 11th  for Information and Booking please contact us by email theroundwoodparishhall@gmail.com or by phoning us on 087-9627527 (Ben) or  0876308072 (Bernie). Indoor and outdoor spaces available, Booking is essential as limited to 22 spaces for the indoor tables. Open to stall holders from 10 a.m. open to the public from 12 noon to 5 pm.. Tables can only be held until 11.30 a.m
PROGRESSIVE 45
Roundwood Parish Hall Annual Progressive 45  on Sunday October 18th at 8.00 p.m. in  the Parish Hall.  Raffle Prizes on the night and Refreshments served
ROUNDWOOD DANCE
The Roundwood Parish Hall monthly Dance will be held on Friday October 16th with dancing to John Flood from 9 p.m. till late. Teas served, refreshments also available, Raffle prizes. Come along and enjoy a night of waltzing jive.
LOTTO RESULTS
There was no jackpot winner in last week's draw.  The numbers drawn were 4, 11, 27, 30  There were two match three winners, F.M.I.S  & Aisling Murphy. Next week's jackpot will be €15,500
HUMPTY DUMPTY
Roundwood Humpty Dumpty Playgroup resumes Wednesday 9th Sept in the Parish Hall from 10 til 11.30am. Come along and enjoy a coffee and a chat, and relax a little while your wee ones enjoy playing.  €2 for Cuidiu members or €3.50 for non-members. All Welcome
WHIST
Next whist will be on tonight, Wednesday 30th September.
CHRISTMAS PARTY NIGHT
There will be a Christmas party night with Red Hurley show on Tuesday 8th December at the Ballsbridge Hotel which will include a four course Christmas dinner and show at a cost of €59 per person.  Please contact Susan at 0404 45276 any evening after 8pm if interested.  All monies must be paid before 15th October
GAA HANDBALL 4 KIDS
Handball training for primary school children will resume on Wednesday 7th October 2015 in Annamoe community centre at 6.15pm for children aged 7-9 and at 7pm for children aged 10-12. There is a purpose built 40×20 handball court in the facility and a new glass backwall was recently installed. For further information call in on the evening or contact Oliver Donelon on 087 9040535. Adult handball training takes place on Monday night at 8pm.
DIAMOND BRIDGE CLUB
Winners for North/South on Monday 21st September were Bridie Nolan and Phil Power, 2nd Nancy O Brien and Gertie Fee, and 3rd Pamela Byrne and Gaye McGettigan.  1st for East/West were Brid Clancy and Catherine McGillycuddy, 2nd Catherine Halligan and Paddy O Brien and 3rdMarie Kavanagh and Triona Woodroofe
002 BRIDGE CLUB
Results for Friday 25th September were 1st North/South Kay Plunkett and Maria Magee, 2nd Seamus Kennedy and Jim McNamara and 3rd Nancy O Brien and Catherine McGillycuddy.  East/West victors were Margaret Bolger and Noeleen Redmond, 2nd Bridie Nolan and Maura Gaskin and 3rd Liz Belton and Phil Kenna
HOME PRODUCERS MARKET
Roundwood Home Producers Market continues in the Parish Hall, Roundwood.  Times 12 noon to 5pm.  We will have home baking, jams, vegetables, crafts, plants and much more.  New members always welcome
ANGEL HEALING
Angel Healing takes place every Monday night at 7.30 in the Parish Centre, Roundwood Village. It is non-denominational. Come along, to a night of Meditation, Relaxation and Spiritual connection, For more information contact Mary 087 9819420
BINGO
Bingo starts up again on October 18th 2015 at 3:00 pm in Roundwood Parish Hall.
LUNCH CLUB
A reminder that the Active Retirement Lunch club will take place on Friday 16th October in Woods & Byrnes, Roundwood at 1.30.
SECOND HAND BOOKS FOR SALE
Second Hand Books now on sale in the Parish Hall. All proceeds go towards the Parish Hall Fund. Huge variety available. We will gratefully accept all donations of books to help our cause
ROUNDWOOD PARISH HALL
The new purpose built Parish Hall in Roundwood is now available for all social events, meetings, parties, christenings, workshops, training courses. These great facilities are now available. For more information contact us on 087-9627527 , 087-3932730 or theroundwoodparishhall@gmail.com
45 CARD DRIVE
45 card game every Tuesday night in Moneystown Community Centre starting at 8.45pm. Teas served. All welcome.