Roundwood, Annamoe, Moneystown and its hinterland has a wealth of very fine dry stone walls. Dry stone walls and other structures are to be seen across the country and many date back to Neolithic times. Building dry stone has been part of Irish culture for a very long time and is very evident in the South and West of Ireland. In Wicklow, we have many fine examples of dry stone walls particularly around the boundaries of the old estates. Alas many these are lost to us for decades now – being totally overgrown by gorse, brambles, etc.
Local resident of 30 years, Phil Guiney has uncovered an array of our lost dry stone walls in many places throughout this area. You will spot his fine craftmanship in the restored boundary walls of Glendalough House at Oldbridge and the fine cairn that surrounds the Oldbridge rock in the same location.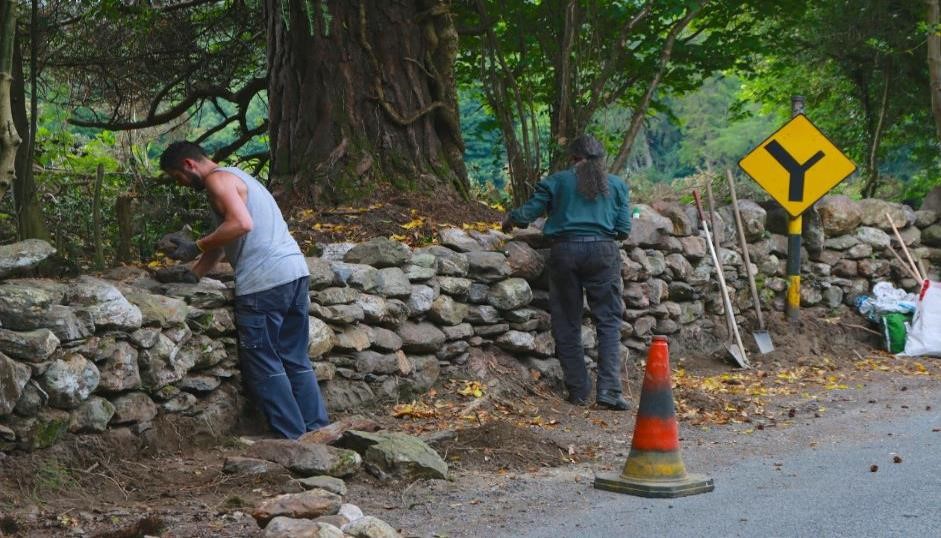 Phil is a member of the Dry Stone Wall Association of Ireland (DSWAI). Dry Stone Construction is now listed on the National Inventory of Intangible Cultural Heritage as a result of an successful application by the Association in 2018. This made DSWAI the representative body for Dry Stone Construction in Ireland. The craft of dry stone walling is an art and forms part of our unique Irish heritage. Dry stone walling joins 30 or so other unique traditions that have been given official recognition as Intangible Cultural Heritages of Ireland by the state. They include traditional sea currach making which are still a common sight in the coastal waters along the West of Ireland; the making of Irish crochet lace and Mountmellick embroidery; the Burren Winterage festival, a unique farming history of North Clare; the Mummers of Fingal; snap net fishing; and the tradition of carillon (bellringing, percussion, organ) in Cobh, Co Cork.
The Dry Stone Wall Association are currently working with reprentatives from Culture Ireland and others to progress a submission to UNESCO for next March 2023 https://www.dswai.ie/ich . If successful, this will ensure that Ireland's continuing dry stone craft tradition (along with Luxembourg) will join Croatia, Cyprus, France, Greece, Italy, Slovenia, Spain and Switzerland on the UNESCO File list.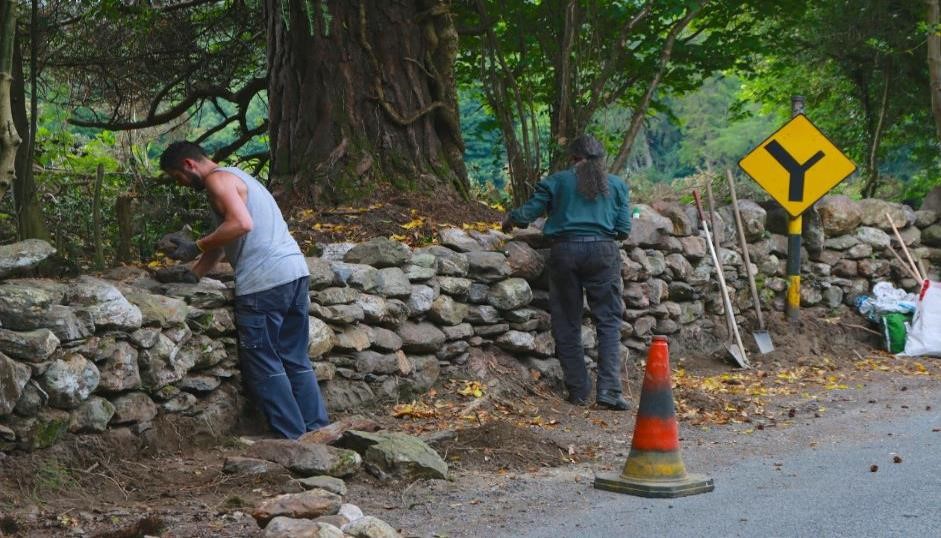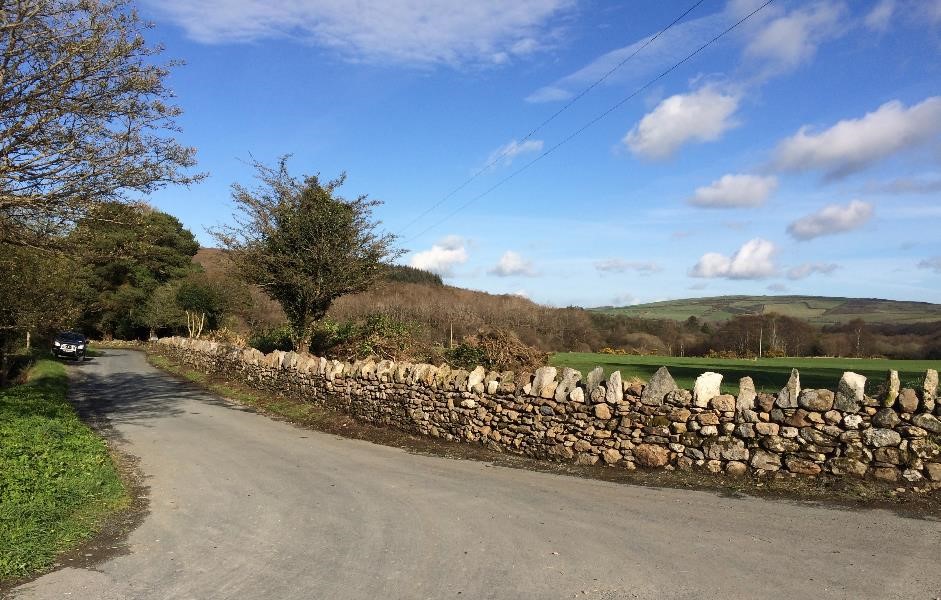 Many could identify the stone wall builder by the way the stone is built – it was like a signature. The style pictured above is referred to a 'cock and hen'.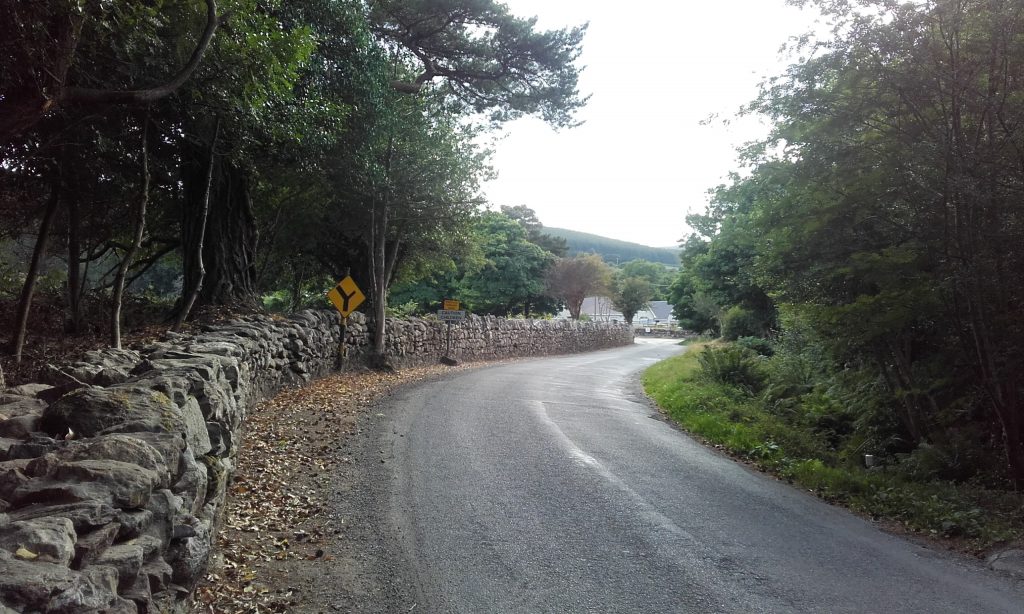 ​In conjunction with the Dry Stone Wall Association of Ireland (DSWAI) Phil organised a very successful stone wall workshop at Drummin in May 2022 where volunteers had the opportunity to work with him to repair some walls on the Laragh House estate. It was a very enjoyable day and a worthwhile learning experience for all involved. Such was the success that Phil, in conjunction with a local landowner, is working to establish an official DSWAI training area in the locality so that these workshops can happen on a regular basis. This DSWAI workshop was the second of its kind to take place on this side of the country, the first took place in Ballyknockan in Wicklow in 2017. It's a great project and works like a Meitheal – the work helps out local landowners, preserves these ancient walls for centuries to come and passes on Phil's super craft to others.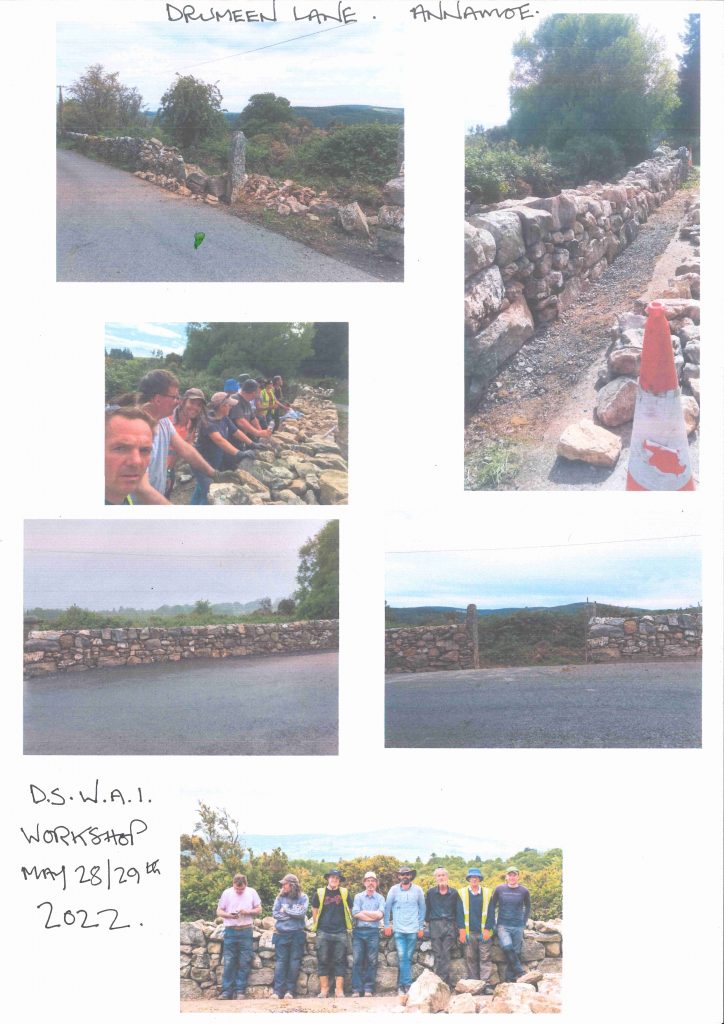 Phil lives and breathes these walls and working with stone. You will see his professional handy work all over the area including Moneystown, Glenmacnass, Tomdarragh, Glendasan, Laragh East, Carrigeenshinnagh and at the Lough Dan Scout Centre where he guided and worked with scouts from all over the world. His artistic structures are very eyecatching.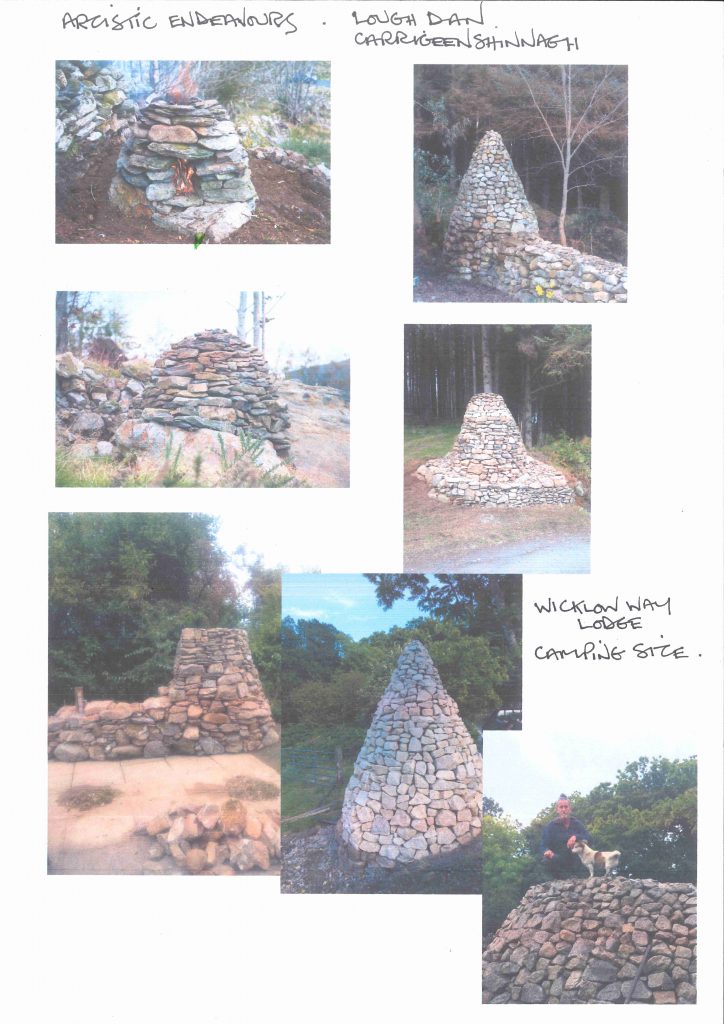 There is no end to Phil's giving of his time and effort to our area as he intends to enter a 100 metres of walls into the PURE Mile competition in 2023. A mile of stone may take more than a year to complete but Phil reckons that 100 metres of dry stone wall restoration should be very achieveable – 'stonewalling is not the quickest craft to complete', Phil says!
Well done Phil – keep up the great work. We look forward to continuing to see the fruits of your wonderful hands in the years to come ~ a lasting legacy.