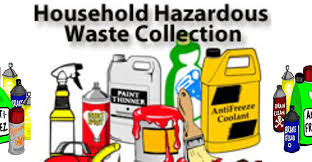 Much of what we throw in our bins is actually hazardous waste.  Please do not throw out any of the following wastes and safely store them until the next hazardous waste collection.
PAINTS & SOLVENTS; BATTERIES; FLUORESCENT TUBES; FERTILISERS; PESTICIDES & POISONS; WASTE MEDICINES; ADHESIVES, INKS AND RESINS; CAUSTIC SODA AND WASTE OILS; DRAIN CLEANERS; CLEANING AGENTS & DETERGENTS; PHOTOGRAPHIC CHEMICALS; OVEN CLEANERS; SHOE POLISHES.
HOUSEHOLD BATTERIES MAY ALSO BE LEFT TO ANY WICKLOW COUNTY COUNCIL RECYCLING CENTRE AND ARE PART OF A FREE TAKE BACK SCHEME AT ALL SHOPS SELLING BATTERIES.  PAINTS ARE TAKEN AT THE BRAY AND ARKLOW RECYCLING CENTRES AT ALL TIMES.
| | | |
| --- | --- | --- |
| DATE | VENUE | TIME |
| 27th October, 2018 | Bray Recycling Centre, Boghall Road, Bray | 9.30 a.m. – 1.00 p.m. |
PLEASE NOTE
THESE COLLECTIONS ARE FOR HOUSEHOLDERS ONLY
The collection is carried out by a private contractor on behalf of Wicklow County Council under Hazardous Waste Licensing Legislation.
It is not always possible to predict the amount of hazardous waste materials which will be delivered to the collections.  As materials must be kept separately, stored and sealed in protective containers in the truck and because they are hazardous, there is a limit to the space available for each type of item.
MATERIALS MAY NOT BE LEFT AT THE LOCATIONS OUTSIDE OF THE COLLECTION TIMES.  FINES FOR LITTERING WILL BE ISSUED.