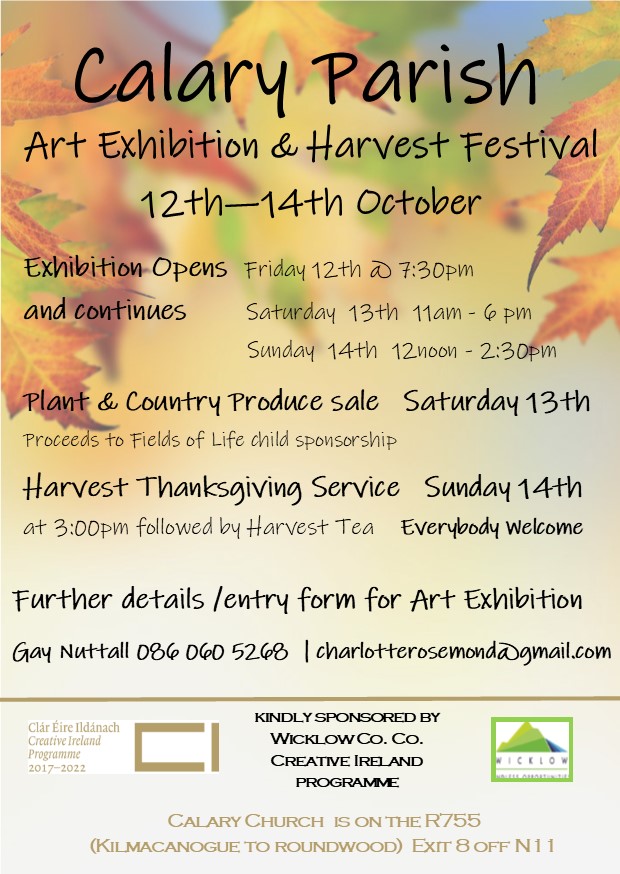 Preparations are well underway for a fantastic Art Exhibition at Calary Church (R755 between Roundwood and Kilmacanogue) this weekend (12th-14th Oct)
There are over 170 exhibits – Paintings, Ceramics, Stoneware and Wood turning, and the standard this year is excellent.
The Exhibition is being opened by Cllr. Shay Cullen on Friday evening at 7:30 in the beautiful setting of Calary Church. All are welcome to join us for a glass of wine and a viewing. The work exhibited is by local artists and we are delighted to showcase and offer their work for sale. Commission proceeds all goes to charity.
Exhibition continues on Saturday 11-6 and there will be a plant and country produce sale – proceeds to our child sponsorship scheme in Africa.
Open Sunday 12noon – 2.30 culminating with Calary Harvest Service on Sunday at 3 followed by a scrumptious Harvest Tea. All are welcome!