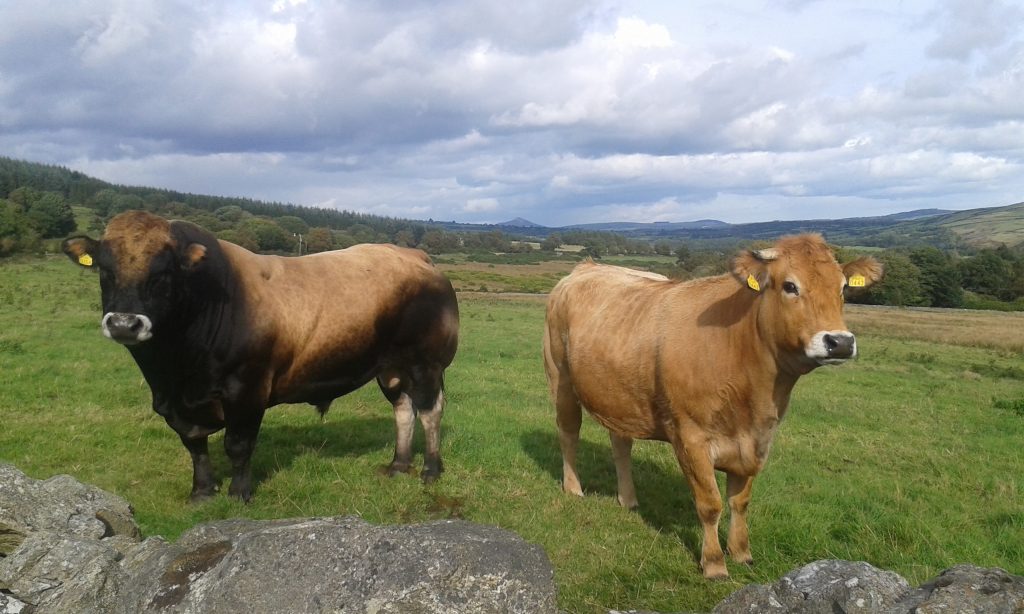 PANTO TICKETS ON SALE
Roundwood Variety Group's Panto is back and this year's show Snow White & The Babes In The Wood is as exciting and hilarious as last years big success The Pied Piper. This Panto is a combination of magical stories from the brothers Grimm featuring Snow White, Hansel & Gretel, Red Riding Hood, Her Granny, The Wolf, Three little pigs, a handsome prince, Rapunzel and The Evil Queen. Not forgetting to mention The Seven Dwarfs and many more! It's a side splitting performance not to be missed! Show dates: Friday the 27th of January 8pm, Saturday the 28th of January 3pm & 8pm and Sunday the 29th of January 1pm & 6pm. Tickets (€15 + booking fee) go on sale from Wednesday January 11th online only from Roundwoodvarietygroup.com. We look forward to seeing you all there!
LUNCH CLUB
A reminder that the Active Retirement Lunch club will take place on Friday 20th January in Byrne and Woods, Roundwood at 1.30.
GET ROUNDWOOD WALKING
Well done to everyone who took part in the Get Ireland Walking programme. Our group are now called the Roundwood Whizzers and will be returning to action every Wednesday from the 11th of January 2017 at 7pm at Aras an Tochar. All welcome to join in any we
RUNNING UNDER THE LIGHTS
If a bit of jogging is one of your New Year's resolutions then running under the street lights for adults/teenagers provides the perfect opportunity.  All fitness levels are welcome as everyone runs at their own pace. Open to booth male & females runners meeting every Thursday night at 7pm from the Coach House car park, Roundwood starting from the 12thof January
HOMESTEAD SENIOR CARE
Home Instead Senior Care –  Are actively looking for carers in the Roundwood and surrounding areas to care for people in their own homes.  Hours are Flexible, Part-Time, Evening and Weekend Work, Training & Experience preferred but not essential. If you are seeking employment, have a passion for people and would like to care for the elderly in your community.  Please give Home Instead a call at 01 2768122
MONEYSTOWN DANCE
The Wicklow Man will play in Moneystown Community Centre on Friday, January 13th from 9.30 pm till 12.   Teas served, refreshments also available, door prizes.  Come along and enjoy a night of waltzing, jive, etc.
WHIST RESULTS
The results of the whist are as follows:- top Score: Monica Brady; Top Gent: Tom McHugh & Jimmy Molloy (shared); Top Lady: Patricia Byrne; Second Lady: Molly Byrne; First Half: Shay Brady; Second Half: Maura McHugh; Lowest Score: Catherine Doyle & Longest Sitting: Anne Pierce.  Raffle prizes were won by May Kenna, Jimmy Molloy, Ann Pierce & Tom McHugh. Next whist will be on Wednesday 18th January in the Parish Centre.
LOTTO RESULTS
There was no jackpot winner in last weeks draw.  The numbers drawn were 1m 20, 28 & 29.  There was two match three winners, Darren Delaney & Cody Hughes.  Jackpot stands at €19,400
PROGRESSIVE 45
Progressive 45 card game Sunday 15th Jan at 7pm in the Roundwood parish hall, in aid of Roundwood AFC under 16 away trip to Blackpool at Easter all welcome. Excellent prize money and refreshments served at the interval
ROUNDWOOD DANCE
The next Roundwood Dance will be on Friday 20th January with Music by John Flood.  All are welcome.
ANGEL HEALING
Why not take 2 hours out of your week just for you and join us on a Monday evening at 7.30 in the Parish Hall, Roundwood.  Here you will be part of a group who know that looking after their well being is so important.  You will learn how to meditate and be still. To connect to your Angels and be supported by the wonderful people who have attended this group in Roundwood for 13 years.  So if you would like more information you can contact me Mary Stacey on 0879819420 or just come along on the night
002 BRIDGE CLUB.
Noeleen Redmond took 1st place in the  2016 Winter league by one point from Paddy O Brien, 3rd place went to Nancy O Brien, 4th place Bridie Nolan and Margaret Bolger took 5th place.     Gaye and Triona thanked all the members for their continued support and wished them all a very Happy and Prosperous New year.   Bridge returns for the 2017 season on Friday the 13th January.  Friday 16th saw Ger Lenihan and Paddy O Brien take 1st place for North/South in the final competition of 2016, Judy Skates and Rowena Brady were 2nd and Nancy O Brien and Catherine McGillycuddy  were 3rd.     East/West victors were Noeleen Redmond and  Margaret Bolger, 2nd Jane Cronin and Gertie Fee and 3rd Jim McNamara and Seamus  Kennedy.  Play resumes  on Friday 13th January
DIAMOND BRIDGE CLUB.
After narrowly missing out on 1st place on Friday Paddy O Brien walked away with 1st place in the Winter league, 2nd Brid Clancy, 3rd place once again went to Nancy O Brien, Phil Power took 4th and Teresa Leahy took 5th.  Gaye and Triona once again thanked all members for their continued support and look forward to our next session  of Bridge in 2017 which started on Monday 9th January.  Happy New Year to one and all.  In the final competition of 2016 Collete Martin and Gaye McGettigan took 1st place for North/South, 2nd Nancy O Brien and Catherine McGillycuddy, and 3rd Kay Plunkett and Margaret Byrne.  1st for East/West were Gertie Fee and Brid Clancy, 2nd Anne Kennedy and Marie Kavanagh and 3rd Bridie Nolan and Catherine Halligan
MATHS GRINDS
Rebecca Delamere will be teaching group Maths lessons on a weekly basis in the Parish Hall in Roundwood for secondary school students.  Class sizes will be very small and there will be classes at different levels.  These lessons provide support for students who may be struggling with Maths in school, support for students who are aiming for high grades and also prepare students for their Maths exams.  To reserve a space of for further information, please contact Rebecca on 086 0650129 or rebeccadelameremathslessons@outlook.ie.
YOGA
Yoga classes will resume on Thurs. 19th January in Roundwood Parish Centre.  Class run from 7.30p.m to 9.00p.m for 10 week Course.  Class will include Asana(Physical stretches), Pranayama (Breathing exercises) Relaxation and Meditation.  Course of 10 classes costs 100 euro with a minimum of 50 euro due on first night.  Contact Anne-Marie on 0868367578 (after 12th Jan.)
MEDJUGORJE
Pilgrimage to Medjugorje on October 11th 2017 for one week  Cost €669.00 to include Flights ( Aer Lingus) Insurance Half Board Accommodation in house beside Church.  Transfers to and from Medjugorje.  €100.00 off price if paid in full by December 9th.  For more information /Booking Contact Mary King on 0872185067
45 CARD GAME
A 45 Card Game takes place every Tuesday night in Moneystown Community Centre starting at 8.00pm. Teas served. All are welcome.
PARISH HALL
The  Roundwood Hall  is always available for all social events, meetings, children's parties, christenings, workshops, training courses etc. These great facilities are now available. For more information contact us on 087-9627527 , 087-3932730 or theroundwoodparishhall@gmail.com
SET DANCING
Set Dancing continues every Thursday night in Kavanagh's Lounge from 9pm til 11pm with music this month by the O'Kane family.  Come along and join us for a night of good fun, great exercise and a very social night out.  Also giving jiving lessons starting on Thurs  at 8.30pmbefore our weekly set dancing session. All are welcome to these lessons.Newcomers always welcome and great way to meet some locals.  Cost for night of dancing and entertainment is still only €5.
MENS SHED 
Roundwood Men's Shed continues on Tuesdays between 10 and 12 noon at Pat Carr's place  in Knockraheen. Plans are underway to get down and dirty with raised bed gardening and wood turning lessons for those interested. If there is an unused woodturning lathe 'out there' we will be delighted to give it a good home and put it to good use.
Eight free lessons on the use of laptops/tablets/ smartphones commence in Coláiste Chraobh Abhann, Kilcoole on Fri. 20th January. This will be free 121 (one to one) tuition and open to all  'mature students', shedders or non-shedders – male or female. 11.15 a.m. to 12.35 a.m. are the times and a cuppa with be served to facilitate social interaction.
MOONLIGHT WALK
Wicklow Hospice and Vartry Walks Project, Roundwood are partnering to organise a joint fundraising walk.  The 10km Moonlight Walk around Vartry Reservoir in Roundwood will take place on Saturday, 11th February at 6.00pm (sign in from 5.30pm at Kavanagh's Vartry House).  Registration in advance.  €20 individual adult or €40 for family.
Full information available on Roundwood.ie website http://www.roundwood.ie/activities/moonlight-walk-2017  or: Roundwood.ie Facebook page – events page.