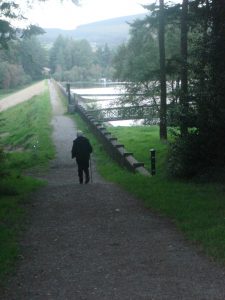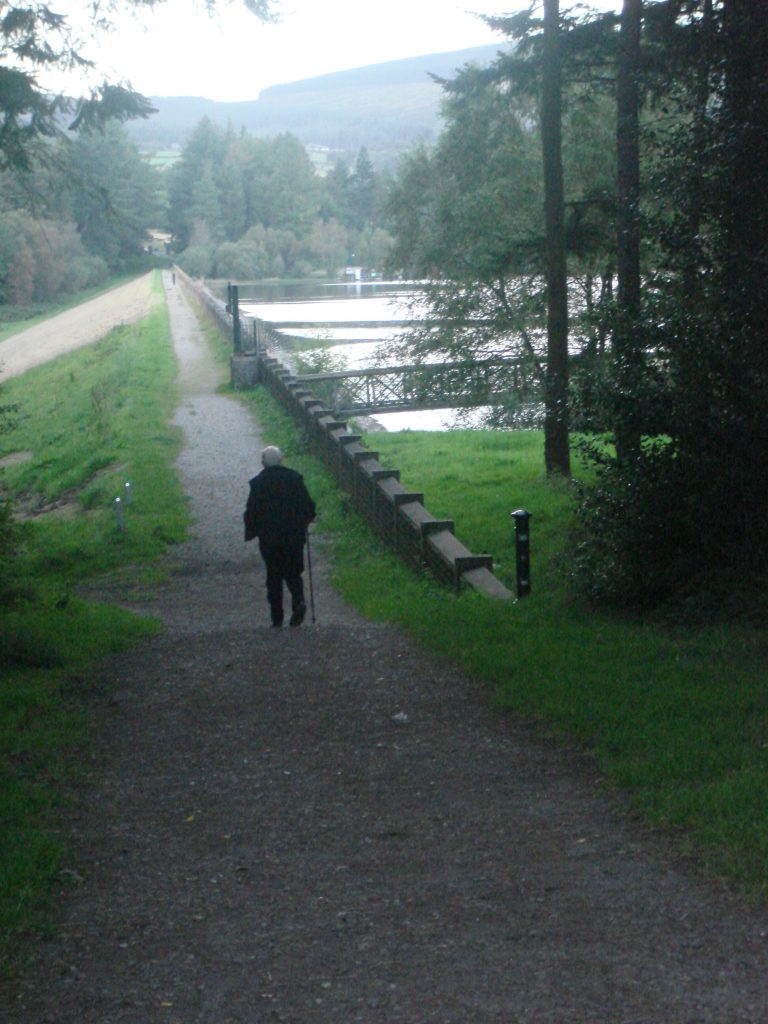 GET WALKING
Get Ireland Walking aims to promote, encourage and support people to get walking while unifying the efforts of all recreation, sporting and health promotion agencies and associations interested in promoting walking. It is funded by the Irish Sports Council and the HSE, and supported by the Irish Heart Foundation, Mountaineering Ireland, Age and Opportunity, GAA, Arthritis Ireland and others. In association with Get Ireland Walking, Wicklow Local Sports Partnership and Roundwood & District Community Council are organising leisurely weekly walks in the area starting on the 12th of October at 7pm from Aras an Tochar. Everyone is welcome to come along to walk at their own pace for less than one hour. These walks provide the opportunity to get some exercise and are also a social event with a cuppa afterwards in the complex.  If there is enough interest a morning walk will also be organised starting from the village. For those interested walk leader training can be provided at a later stage.  So do come along to the first night on October 12th 7pm at An Tochar GAA. All ages and abilities are welcome.
ROUNDWOOD DANCE
On October 21st John Flood will play in Roundwood Parish Centre.
BINGO
Fun Bingo will take place on in the Annamoe Centre on Sunday 16h October from 3pm.  Family members and friends are more than welcome to attend.  €5 per book and great raffle prizes.  Come along and enjoy
LUNCH CLUB
A reminder that the Active Retirement Lunch club will take place on Friday 21st October in Chester Beattys, Ashford at 1.30.
TABLE QUIZ
A date for your diary! Roundwood Golf Society – Annual Table Quiz Night in aid of Roundwood Senior Citizens Christmas Party will take place in Kavanagh's Vartry House on Friday 28th  October 2016 at 8.30 p.m.  Your support will be appreciated.  Items required for Spot Prizes/Raffle Prizes.  All donations will be gratefully accepted
STRICTLY COME DANCING
Strictly Roundwood will take place in Aras on Tochar on Saturday 22nd October.  Doors will open at 6.30pm.  This promises to be a fantastic night with 13 paired couples taking part in a variety of dances.  All monies raised will go towards the funding of our new track and facilities on our recently purchased site.Tickets are on sale from Roundwood Post Office, Lucy 086-8343286 or Ellen at 086-8343286
JUVENILE HANDBALL TRAINING
Handball Training for children takes place each Wednesday evening in the Annamoe Centre at 6.30pm for kids aged 7-9 years and at 7.15pm for children aged 10-13 years. For further information contact Oliver Donelon on 087 9040535 or Andrew Muldowney on 087 0510104
WHIST RESULTS
The results of the whist are as follows:- Top Score: Jimmy Molloy; Top Gent: Lucy Molloy; Second Gent: Pat Fisher & Richie Cullen; Top Lady: Paddy Halligan; Second Lady: Patricia Byrne; First Half: Anne Gaffney; Second Half: Maura McHugh; Lowest Score: Ann Pierce and Longest Sitting: Tom McHugh. Raffle prizes were won by Mary Murphy, Maura McHugh, Richie Cullen & Anne Pierce.  Next whist will be tonight Wednesday 12th October in The Parish Centre.
DIAMOND BRIDGE CLUB
Monday 3rd October saw the pairing of Catherine Halligan and Catherine McGillycuddy take 1st place for North/South,  Kay Plunkett and Joan Shortt  were 2nd, Teresa Leahy and Marian Davis were 3rd and Gertie Fee and Phil Power 4th.  Taking 1st place for East/West were Bridie Nolan and Brid Clancy,   2nd Ger Lenihan and Paddy O Brien,  Clare Sally and Mary Pierce took 3rd place whilst Derek Nielson and John Loscher were 4th
002 BRIDGE CLUB
Noeleen Redmond and Margaret Bolger played their cards right on Friday 7th October to take 1st place for North/South, 2nd Molly Byrne and Rachel Judd and 3rd Monica Brady and June Digby.     Sharing 1st place for East/West were Bridie Nolan and Maura Gaskin with Paddy O Brien and Jim McNamara whilst Kitty Heslin and Triona Woodroofe took 3rd place.
COMHALTAS IRISH MUSIC CLASSES
Learn traditional Irish music and dance with an award-winning Comhaltas branch (guitar, fiddle, flute, tin whistle and grúpa ceoil). Classes are held at 7 pm on Tuesday nights in St. Laurence O'Toole N.S., Roundwood – the first term is from September to January while the second term is from January to May. Performances, workshops and outings take place throughout the year. For more information phone 086-8269964 or email roundwoodcce@gmail.com.
AVONDALE VOICES
Fresh from their recent, strong performance on Culture Night in the Dominican Convent, the members of Avondale Voices Community Choir are excited about starting a whole new repertoire for the coming year.  This is a great time to join up, if you are not a member already!   Come, sing, relax and have fun with us. Membership is open to all and the choir always welcomes new people. Rehearsals are held in Ballinatone Hall, near Ballinaclash from 7.30 – 9.30 p.m. on Wednesdays.   There is no audition required.  Anyone interested in joining the choir can ring Nicola on 086 8260919.
MONEYSTOWN DANCE
The Wicklow Man will play in Moneystown Community Centre on Friday 14 October from 9.30 pm till 12.   Teas served, refreshments also available, door prizes.   Come along and enjoy a night of waltzing, jive etc
HISTORICAL SOCIETY
The Roundwood and District Historical Society will hold a talk on Tuesday Nov 1st with Speaker – Dr Neil Carlin talking on 'People, Places and Things: the life stories of Beaker polypod bowls in Ireland'  It is our intention to arrange further talks for early 2017 and once speakers are confirmed we will forward dates and details to you.  Admission €3  The talk will take place in the Parish Hall and commence at 8pm.  We have also provisionally arranged our annual Christmas dinner to take place in the Roundwood Inn on Friday, December 9th – more details later.
ADOPT A SPOT
Is there an area near you which could do with a bit of a tidy up? The Tidy Towns group are appealing to residents throughout the Parish to adopt even a small area with a view to maintaining it – even for just one year. If you can identify a spot & have some ideas on how to improve it, please contact Terry on 087 2551579 or email info@roundwood.ie where necessary support will be given if required. Every little helps!
YOUTH LEADERS 
Are you interested in helping to set up a youth club for young people in the area? Youth leaders are required to enable a club to be formed. Free training will be provided in child protection and other related areas to all volunteers. For further information please email info@roundwood.ie
MATHS GRINDS
Rebecca Delamere will be teaching group Maths lessons on a weekly basis in the Parish Hall in Roundwood for secondary school students.  Class sizes will be very small and there will be classes at different levels.  These lessons provide support for students who may be struggling with Maths in school, support for students who are aiming for high grades and also prepare students for their Maths exams.  To reserve a space of for further information, please contact Rebecca on 086 0650129 orrebeccadelameremathslessons@outlook.ie.
45 CARD GAME
A 45 Card Game takes place every Tuesday night in Moneystown Community Centre starting at 8.45pm. Teas served. All are welcome.
PARISH HALL
The  Roundwood Hall  is always available for all social events, meetings, children's parties, christenings, workshops, training courses etc. These great facilities are now available. For more information contact us on 087-9627527 , 087-3932730 or theroundwoodparishhall@gmail.com
SET DANCING
Set Dancing continues every Thursday night in Kavanagh's Lounge from 9pm til 11pm with music this month by the O'Kane family.  Come along and join us for a night of good fun, great exercise and a very social night out.  Also we will be giving jiving lessons starting on Thurs 29th september at 8.30pm before our weekly set dancing session. All are welcome to these lessons.Newcomers always welcome and great way to meet some locals.  Cost for night of dancing and entertainment is still only €5.
ANNAMOE CENTRE
Bowls every Tuesday night at 8pm, new members welcome.   Women's/Men's Shed started back on Wednesday the 15th September at 10:30am. Why not come along for a chat and much more