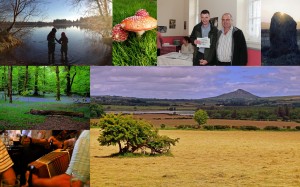 ROUNDWOOD CALENDAR 2016
The 2016 Roundwood Calendar is ready to hit the shelves  and will be officially launched in Roundwood Parish Hall on this Saturday 28th of November at 7.15pm.  A wonderful selection of photographs were submitted for consideration and it proved very tough to decide on what went it.  Many thanks to all the photographers. The calendar will be on sale at a special price of €6 (or 2 for €10) at the official launch. The cost of production of the calendar is generally covered by its sales. After its official launch the calendar will be available for sale at the Parish Sale of Work on the 6th of December and in Roundwood Post Office. Your continued support is much appreciated.
PARISH CHRISTMAS PROGRESSIVE 45 CARDS
Progressive 45 card game in the Parish Hall Sunday the 6th December at 7.30pm sharp. Excellent cash & raffle prizes on offer. Light refreshments served.
CABARET
A cabaret in aid of the Senior Citizens Christmas party will be held on Friday 27th November in The Glendalough Hotel. Your support would be greatly appreciated
ANNAMOE CENTRE
Our Story telling night is on the 11th of December at 8pm.  All are welcome.  Women/Men shed every Wednesday from 10:30am  Fun Bingo Sunday the 29th of November at 3pm
HISTORICAL AND FOLKLORE SOCIETY
On Monday the 30th of November at 8.00 p.m, in the Parish Hall, Roundwood, Roundwood and District Historical and Folklore Society welcomes Karl Brady, Archaeologist who works in the Unit of the National Monuments Service, Department of Arts, Heritage and the Gaeltacht will give a talk on Underwater Archaeology, with particular reference to the 4,000 old log boats which were located in Lough Corrib. Mr. Brady has published widely on early maps, ecclesiastical remains and shipwrecks and has responsibility for the management of shipwrecks. In 2008 he published a book entitled The Shipwreck Inventory of Ireland: Louth, Meath Dublin & Wicklow. On Monday the 30th of November Roundwood Historical Society will give details of events planned for commemorating 1916. New members are most welcome to the society and we look forward to seeing members and friends at the lecture on the 30th of November.
CHARITY FOOTBALL MATCH
The community of Roundwood are coming together for a under 30s v over 30s charity football match on 30th December in Enniskerry Youth Club.  Afterwards to the Coach House lounge at 6pm for presentation, refreshments and music.  All donations accepted on the day . Everyone welcome.  Queries contact : Luke Ferguson 0868755070  Shane Langrell: 087 4171521
CONGRATULATIONS
Roundwood AFC would like to congratulate David, Orla, Josh & Ryan on the arrival of their new baby boy. We look forward to another "Healy" superstar joining Roundwood AFC.
VOLUNTEER OF THE YEAR
Some of you may not be aware but Terry Kavanagh has been nominated for the National Volunteer of the Year Awards.  Terry wants to thanks everyone who nominated him for this Award. He is both shocked and humbled by it all & will admit to a few speechless moments – which you will all know is rare for him! As a result of the Volunteer Ireland nomination his name has gone forward as a finalist for the Better Together 2015 Charity Hero Award. This is a lifetime achievement award – he has been around a bit longer than some of us – which, if he wins, he will donate €1000 to a charity of his choice. To be in with a chance he needs your help. Please use this link http://2015.bettertogether.ie/charity-hero  every day between now and the 4th of December and vote for Terry – He is last on the list, which he hopes is not a bad omen! You can vote for Terry every day.  The judging panel will select a single winner from the five nominees with the most votes. We are aware that we all have busy lives but he would greatly appreciate if you could vote as often as you can & spread the word on his behalf. Many thanks again for your all your kind words & support to date. Keep up the good work!
BINGO
Fun Bingo will take place in Annamoe Centre on Sunday 29th November from 3pm.  Family members and friends are more than welcome to attend.  €5 per book and great raffle prizes.  Come along and enjoy
LUNCH CLUB
A reminder that the Active Retirement Lunch club will take place this Friday 27th November in Lynhams of Laragh at 1.30.
BUY SELL SWAP
Moneystown Community Centre will hold a Christmas Buy Sell Swap on Tuesday 1st December from 10am-2pm.  Join us for tea/coffee and browse our selection of seasonal crafts, festive food, new unwanted gifts, Christmas decorations.  Tables cost €8 and can be booked by contacting Mary 086 1504221 or Claire 086 8380023
CODERDOJO
Coderdojo is an initiative where young people can learn how to code apps, graphics and web sites in a fun relaxed environment. Mentors guide them along and it's all free. Moves are afoot to set up a Dojo in Roundwood. If you are interested in helping out as a mentor or to find out more please come along to Roundwood Old School at 8pm on Monday 30th of November or email info@roundwood.ie
CHRISTMAS TREE LIGHTS
Get out your Santa hats and Christmas jumpers and come along to the Roundwood Old School on Saturday the 5th of December at 7.15pm for the official turning on the Christmas tree lights. There will be plenty of minced pies, mulled wine and goodies for those who join in with the carol singing and is a community event to get the village into the Christmas spirit. All welcome
PROGRESSIVE 45
Progressive 45 card game in the parish hall Sunday the 6th December at 7.30pm sharp excellent cash prizes & raffle prizes refreshments served
CHRISTMAS PARTY
Set Dancing Christmas Party in the Mill Room, Kilcoole on Friday December 4th at 9 p.m By The Avondale Ceili Band
PARISH CHRISTMAS SALE OF WORK
Our parish sale of work takes place on Sunday the 6th December in the Roundwood G.A.A. complex between 12 & 4pm.  Santa will be arriving at 1pm & both our national schools will be performing an array of Christmas Carols on the day.  We have all our usual stalls. flowers, wheel of fortune, bric a brac, bottles, books, toys, home baking & teas.  Fun & games, goldfish, nail art, tattoos & face painting for the kids, & kiddies corner for the toddlers.  You can order your club gear at the An Tochar stall.  Roundwood and District Community Council will have their 2016 calendar available for sale along with information regarding text alert. The monster raffle will be drawn at 3.30pm approx followed by all the other various raffles concluding with the sheep auction. Donations for all the stalls will be very gratefully accepted for further information contact Caroline Sillery 086 1714973.  Come along and enjoy this festive fun day, Santa hats and Christmas jumpers optional.
SET DANCING
Set dancing in Kavanagh's lounge every Thursday night with music this month by Michael and Brian. Love if you could join us on the dance floor for a night of fun and lively banter
DANCE
The Roundwood Parish Pioneer Dance will be held on Friday November 27th with dancing to Tony Davitt  from 9 p.m. till late. Supper served on the night, Come along and enjoy a night of waltzing jive, all are welcome
CAR BOOT SALE
The next Roundwood Parish Hall car boot sale will be our Christmas gift and craft fair which is been held on Sunday December 13th stalls opened to the public from 10 a.m. – 4 p.m.  There will be indoor and outdoor spaces available. To book a stall Phone: 087-630807.
LOTTO RESULTS
There was no jackpot winner in last week's draw.  The numbers drawn were 2, 10, 13 & 27.  There were two match three winners, Liz Ryan & Joanna Smith  Next week's jackpot will be €17,900
ATHLETICS AGM
The Annual General meeting of the Roundwood and District Athletic Club takes place on Thursday 3rd December in Aras an Tochar at 8pm. All welcome to attend so come along and participate.  Nomination papers can be requested from Trisha at trishamolloy@eircom.net.
ATHLETICS
Training on a Tuesday night continues at Aras an Tochar at 6.30 with Anne Marah. So get out your runners and come along to a very enjoyable training session and shed those few pounds before Christmas.
PILGRIMAGE TO MEDJUGORJE
October 5th 2016 for a week. Cost €645.00 per person sharing. Discount of €100.00 off price if paid in full by December 11 th.  Price includes Flights ( Aer Lingus) Insurance , Half Board  Accomadation in House beside Church, Transfers to and from Medjugorje.  For more information / booking contact Mary King on 087 2185067
WHIST
Next whist will be on tonight Wednesday 25th November
PRAYER MEETING
Prayer Meeting is held every fortnight in the Parish Centre in Roundwood at 7.30 pm  Dates for November are  24th of November  All very welcome to come along.  For  more information contact Mary King on 087 2185067.