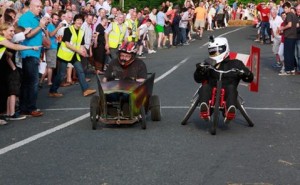 This year the soap box derby on Sunday August 2nd will be even bigger and better than 2014! We have been working away on some details since the last event and have lots of plans to improve on last years event. We have secured a road closure notice from 4pm until 2am so we can have more practice and run more races. That means the entry list can be doubled and have time to accommodate more. Safety barriers will be in place to keep everyone safe.
To join in the fun please check out the rules below which will be strictly enforced
If you are interested in entering this event please read over the rules below and email there details to:
roundwoodsoapbox@hotmail.com
Please include your name, phone number soapbox name and any sponsor you may have. This is important so we can have a list of all the competitors for the commentators on the day.
Rules and Regulations
All Soap Boxes must be well constructed with completely functional brakes and steering. Braking with the hands and feet is NOT permitted. Brakes should function independently of the steering and should be connected to and operated on at least two wheels.
All soap boxes must have a solid towing point to the front and rear to aid in towing back to the start line after each run of the hill
Soap Boxes must be no longer than 2m and no wider than 1m and no more than 50kgs
Original factory products are not allowed.
No storage power or external energy sources are allowed (catapults, particle accelerator, etc)
The compulsory dress code consists of a helmet, full length pants, a long sleeved top and gloves.
Everything else is optional!
Our thanks the sponsors of this year's Soap Box  Derby, two local and well established company's Access Automation and Joe Synnott Roofing & Construction. Much to the delight of many the jump will be in place for the entire event this year! When the winner has been crowned the Festival Finale can start with music on the street with the Roamin' Cadillacs and friends til late! Come on down!