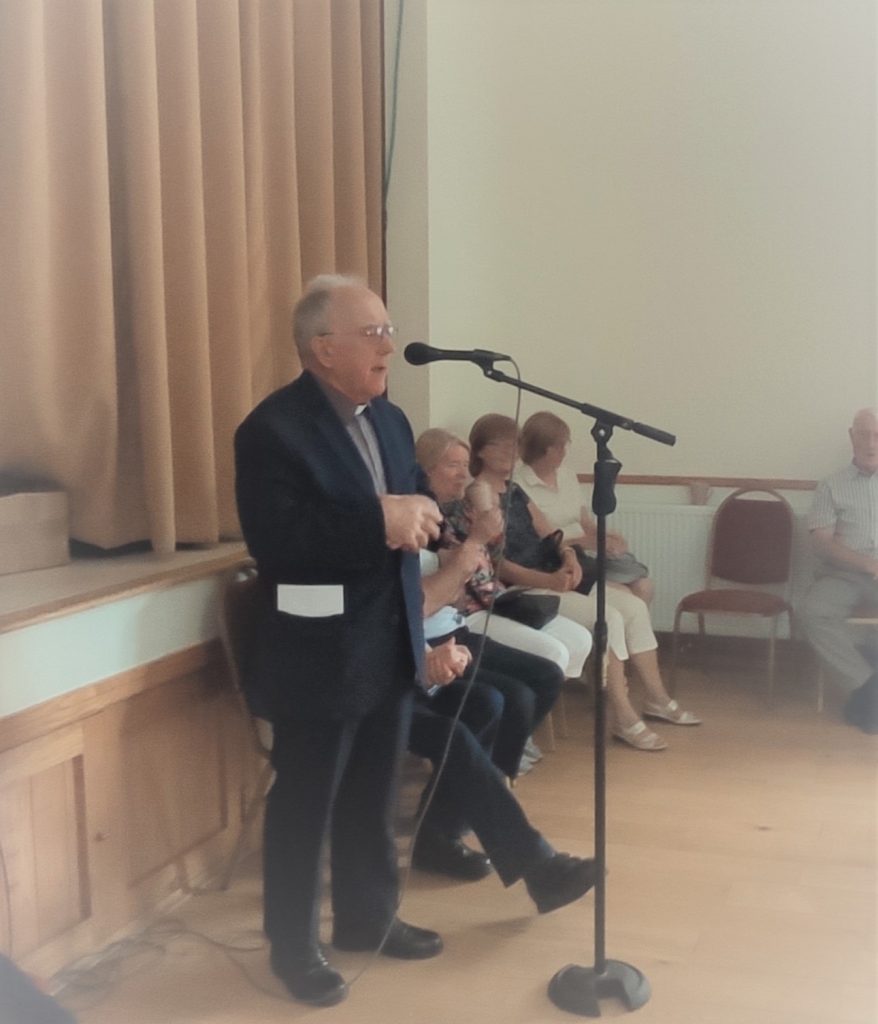 NEW MASS TIMES
Parishes of St. Laurence O'Toole Roundwood/Moneystown & St. Kevins, Glendalough: New Mass Times- Weekends: commencing weekend 23rd & 24th July: Saturday 7 pm – Roundwood, Sunday 10 am – Moneystown, Sunday 11.30 am – Laragh. Weekdays: commencing Monday 18th July: Monday 10 am Roundwood, Tuesday 9 am Laragh, Wednesday 10 am Roundwood, Thursday – No Mass, Friday 9 am Laragh
MUSIC IN CALARY
There will be a number of concerts in Calary Church at the end of July and beginning of August: Wednesday 27 July – Simon Watterton (piano); Thursday 28 July: Duo Formosa from Florida (violin and piano); Saturday 30 July: Fiachra Garvey (piano) and Patrick Rafter (violin); Tuesday 2 August: Anna Cashell (violin), Aisling Ennis (harp) and Simon Watterton (piano). To book tickets for these concerts or for more information, please ring John (01) 2818146 or email derekneilson11@gmail.com
SHAMANIC DRUMMING
Shamanic Drumming Circle, 7-9pm, at Turquoise Café, A98 W5C3. First Thursday of every month. A shamanic drumming circle is a place to come with friends, catch up over a cuppa and then connect in an authentic way. This is a particular type of drumming, using a shamanic drum. A steady 4-7 beats per second, will induce theta brain waves to enable us to journey into non ordinary states to retrieve healing, insights and wisdom for ourselves and our community. All welcome, no experience in shamanic journeying or drumming is necessary. If you have a shamanic drum I welcome you to bring it along. You would need to bring a pillow and blanket. This is a non profit event, costs are to cover venue and refreshments. If you would like to know more about shamanic drumming, or if have any questions, just drop Fiona a line on safehaventranspersonal@gmail.com or give a buzz on 087 2989801.
ROUNDWOOD FESTIVAL
Roundwood Festival 2022 will take place on Sunday the 31 st July in Roundwood Village from 2pm til late. The day will start with the usual fun and games in a new location – the field opposite Roundwood NS on the Lough Dan Road. There's plenty to keep all the family entertained including face painting, bungee run, bouncy obstacle course, live music, interactive workshops including origami and Japense hand massage. Test your strength on the hang tough bar or cheer on your favourites in the inter-pub tug of war or the inter-club novelty race. The full list of activities is still a work in progress but its shaping up to be a great day so keep the day & night free!
Now is the time to start working on your scarecrows for the scarecrow competition! If you need straw for your masterpiece please call John on 086 8225705. Then erect your scarecrow inside the fence on Roundwood Street Festival Day. Judging takes place on the day and the winners will be announced that evening. Two Prizes for the Best Scarecrow & the Most Topical!
FESTIVAL RAFFLE
The Festival raffle tickets which is the main fundraiser for the Festival are hitting the post boxes and local outlets this week. Your support is much appreciated. Festival tickets and money can be returned in a sealed envelope into the Roundwood Lotto box above the ATM in Centra in Roundwood. Many thanks to our wonderful local businesses who generously support the festival by making financial donations or by sponsoring raffle prizes.
FESTIVAL VOLUNTEERS
The Festival is run by volunteers. It can't happen without your help. This year there is alot going on and we are in desperate need of helpers. It's literally one hour of your time on the day of the Festival 31st of July. If you are in a position to volunteer on the day of the Festival please call Monica on 086 8055040. If you are not available on the day we also need some volunteers to help set up the field the day before the festival and to tidy up on the day after. Your help and support will be greatly appreciated by all – especailly your children and family members. Without your help the Roundwood Festival cannot happen. Let's make it a day to remember! Please make that call!
LOTTO
Results of the draw held on Sunday 18th July. There was no jackpot winner. The numbers drawn were 5, 17, 18 & 19 there was one match three winner, Eamonn Kavanagh. Next week's jackpot will be €19,000.
SOCIAL WHIST
Results of the whist held on Wednesday July 13th. Top Score Patricia Byrne, First Gent Ann Pierce, Second Gent Jimmy Molloy, First Lady Maura McHugh, Second Lady Mollie Byrne, First Half Richie Cullen, Second Half Tiney Short, Longest Sitting May Kenna, Lowest Score at 8pm in the Anne Wolohan. Raffle prizes won by Richie Cullen, Jimmy Molloy & May Kenna. Next whist will be held on Wednesday July 27th at 8pm in the new parish hall come along and enjoy a night of cards with us.
JENNY'S PRE-SCHOOL
Jenny's pre -school Moneystown has a limited number of places left for September 2022 and are now taking enrolments for 2023. Enquiries to jennyspreschoolmoneystown@gmail.com
AIKIDO
Is a non-competitive Japanese Martial Art for Flexibility, Coordination, Relaxation and Self Defense. Instructor Joe McHugh 5th Dan Aikido Aikikai. Moneystown Community Hall. Wednesdays 19.30 (Beginners especially Welcome) €5 Unemployed € 8 Employed. For information Contact 086/101 96 68
COUNTRY MUSIC
Westport Country Music Break 23rd-28th of October 2022. 5 nights 6 days music every night and tours to Achill Island, Galway and Leenane. All in price €499 pp sharing. €100 extra for Singles. Dinner B&B. Deposit of €200 and names before 15th July 2022 and remaining money to be paid in full by 15th of August 2022.For further information, Contact Susan at 087 6273032

SET DANCING

Roundwood set dancing has resumed on Thursday nights in the parish hall starting at 9pm. We look forward to welcoming back our usual dancers and also any new comers if they would like to join us, are always welcome. Admission €5.

45 CARD GAME
45 Card Game every Tuesday night in Moneystown Community Centre starting at 8pm. Teas served. All are welcome.
MOBILE LIBRARY
Wicklow County Council Mobile Library will be in Roundwood Village on Thursday 28th July from 10am until 11.15am and also from 2.10pm until 4.30pm. Come along and join the library. It's a free service and is a fantastic way to pick up any book that suits your reading interests.

LOCAL NOTES
If you have an item or news that you would like to include in the Roundwood Notes contact Margaret Bolger the email address is mgtbolger@gmail.com