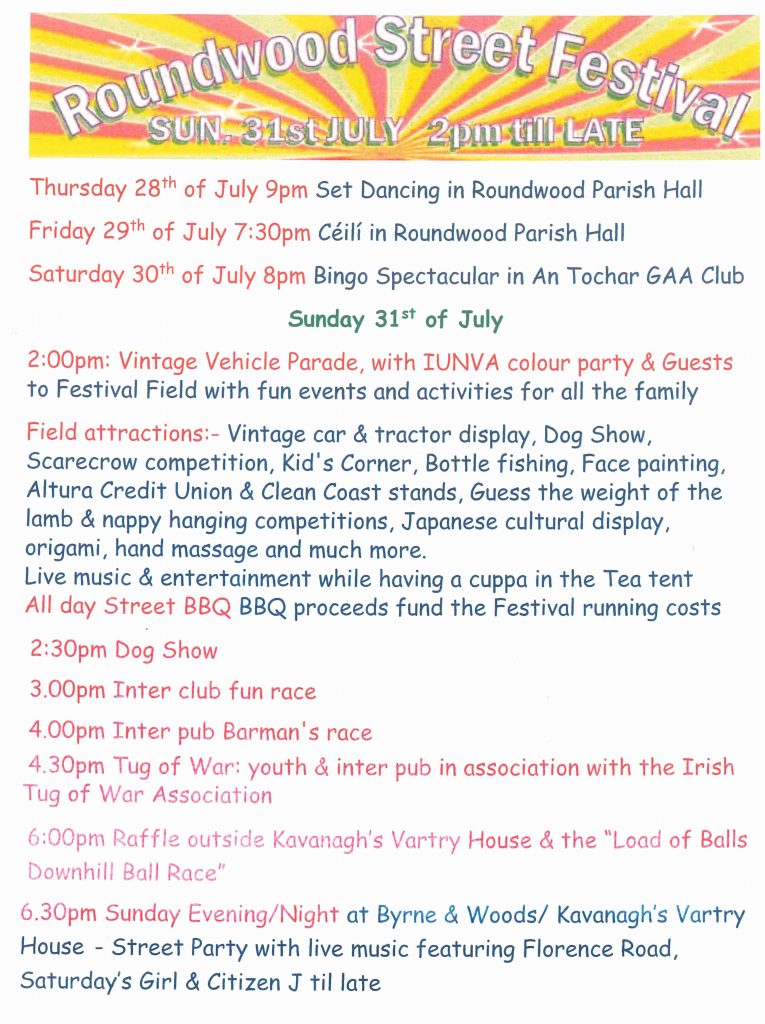 ROUNDWOOD FESTIVAL
The Roundwood Festival 2022 will take place from the 28th to the 31st July. There is a great line up of events for all age groups. Set dancing in Roundwood Parish Hall from 9pm on Thursday night will get the ball rolling followed by a Family Céilé on Friday night from 7:30pm. All roads will lead to Áras an Tochar on Saturday night after the Men's Senior Championship game for a great night of entertainment at the Bingo Spectacular. The Street Festival Day will start with the parade which will go down the main street and enter the Festival Field at 2pm. Many thanks to the Roundwood Inn and the Schwalm family for kindly permitting the use of their field on the Lough Dan Road for the days' events. Check out the posters online and in the village for details of the various events. Most importantly, all the kids should bring their teddy bears and a rug for the big teddy bear's picnic and don't forget to spruce up the dog for the ever popular Dog Show! There will be live music and entertainment beside the tea tent throughout the day. The fabulous Jim McCabe will be MC for the day keeping you informed of the various events so do come along and join the fun.
The Festival raffle tickets which is the main fundraiser for the Festival are available for sale now in An Tochar House, Keith Grant's Butcher and at events throughout the weekend. Many thanks to our wonderful local businesses who generously support the festival by making financial donations or by sponsoring raffle prizes. These events could not happen without you!
BINGO SPECTACULAR
An Tóchar GAA are delighted to announce our annual bank holiday special event. This year we are running a Bingo Spectacular, held as part of the Roundwood Street Festival Saturday 30th July in An Tóchar GAA. Bingo Spec! is a night full of entertainment, music, dancing and prizes. The doors will open from 6.30pm with Full Bar service and everyone is welcome to come straight after our Men's Senior Championship Game (throw-in at 4.30 pm in Aughrim).
The Bingo event will start at 8pm sharp, so get there early to give yourself plenty of time to find a seat and get your bingo cards ready. There will be entertainment and music throughout the night with rounds including "Naughtys", "90s", "Sing Alongs" and "Your Nanny's Favorites".
As we have friends in low places the winner of our "Your Nanny's Favorites" Round will receive a pair of Garth Brooks tickets for his sold out Croke Park concert. Plenty of prizes are still to be announced. We will be revealing more soon.
Do not be disappointed, this will be a sell out and cannot be missed. Tickets available online, in Roundwood Post Office or in Eclectic CHT in Wicklow Town. This is an over 18s event I.D required.
MUSIC IN CALARY 
There will be a number of concerts in Calary Church at the end of July and beginning of August: Wednesday 27 July – Simon Watterton (piano); Thursday 28 July: Duo Formosa from Florida (violin and piano); Saturday 30 July: Fiachra Garvey (piano) and Patrick Rafter (violin); Tuesday 2 August: Anna Cashell (violin), Aisling Ennis (harp) and Simon Watterton (piano). To book tickets for these concerts or for more information, please ring John (01) 2818146 or email derekneilson11@gmail.com
THE ULTIMATE GARTH BROOKS EXPERIENCE
Roundwood AFC are delighted to bring Trevor Smith & Friends in Low Places, the ultimate Garth Brooks experience, to Aras an Tochar on Saturday 6th August. Limited number of tickets available so book now by contacting Martha on 086 355 5036 or Hugh on 087 201 3761 to avoid disappointment. Tickets €30 each.
NEW MASS TIMES 
Parishes of St. Laurence O'Toole Roundwood/Moneystown & St. Kevins, Glendalough: New Mass Times- Weekends: commencing weekend 23rd & 24th July:  Saturday 7 pm – Roundwood, Sunday 10 am – Moneystown, Sunday 11.30 am – Laragh.  Weekdays: commencing Monday 18th July:  Monday 10 am Roundwood, Tuesday  9 am Laragh, Wednesday 10 am Roundwood, Thursday – No Mass, Friday 9 am Laragh 
LOTTO    
Results of the draw held on Sunday 24th July. There was no jackpot winner. The numbers drawn were 6, 22, 28 & 30. There were two match three winners, K.Crean and Martin & Sharon. Next week's jackpot will be €19,300.
PATTERN DAY WALK  
Tha annual Pattern Day Walk from Moneystown Community Centre to Lady's Well Ballymanus Upper on Carrick Mountain will take place on Sunday 14th August leaving Moneystown at 6pm. The route is about 9 km return route to Moneystown (good walking shoes and waterproof clothing recommended and no dogs allowed) Suitable of older children accompanied by adults. The route is along the road then on Coillte roads. Lady's well is an ancient well that is marked on the Neville Maps of 1760 as an important site.
The Well was rediscovered in 2013 and there has been a walk every year or close to the original pattern day August 15th .There will be a short talk on the history and traditions of the holy wells including the Pre-Christian and Christians of this ancient site and also relevant local history.
If you want to play music, read a poem or sing a song feel free to join in as singing, dancing etc were all part of the traditions of pattern days and visits to the well.
Refreshments after the walk in Moneystown Community Centre. Any queries please contact Rosaleen at rosaleendurkin8@gmail.com. Facebook page Wicklow Wells. People attending the walk are undertaking to do it at their own risk and the organisers accept no responsibility or liability for loss or injury on the walk.
SOCIAL WHIST  
Next whist will be held on Wednesday July 27th at 8pm in the new parish hall come along and enjoy a night of cards with us.
COUNTRY MUSIC 
Westport Country Music Break 23rd-28th of October 2022. 5 nights 6 days music every night and tours to Achill Island, Galway and Leenane. All in price €499 pp sharing. €100 extra for Singles. Dinner B&B. Deposit of €200 and names before 15th July 2022 and remaining money to be paid in full by 15th of August 2022.For further information, Contact Susan at 087 6273032

MOBILE LIBRARY 
Wicklow County Council Mobile Library will be in Roundwood Village on Thursday 28th July from 10am until 11.15am and also from 2.10pm until 4.30pm. Come along and join the library. It's a free service and is a fantastic way to pick up any book that suits your reading interests.

LOCAL NOTES 
If you have an item or news that you would like to include in the Roundwood Notes contact Margaret Bolger the email address is mgtbolger@gmail.com