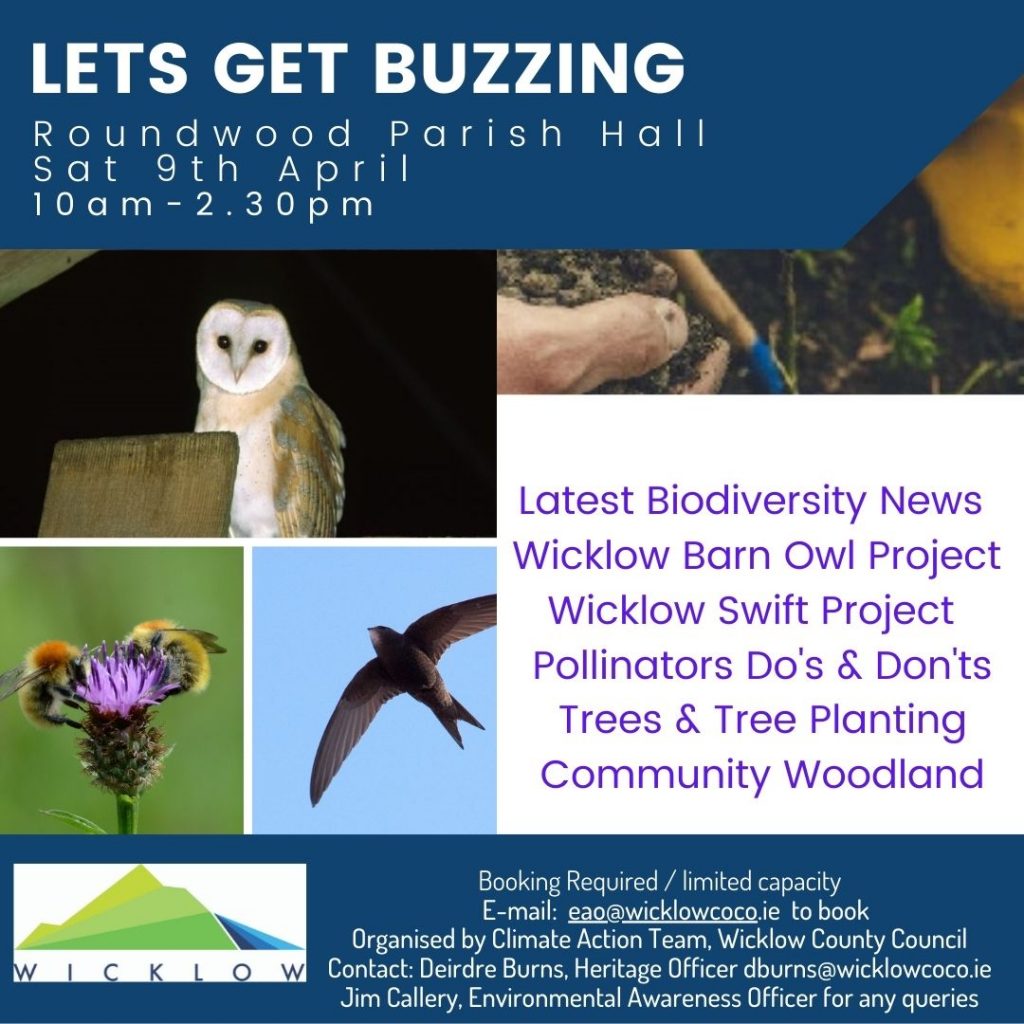 LOTTO  
Results of the draw held on Sunday 3rd April. There was no jackpot winner. The numbers drawn were 15, 20, 24 & 26. There were four match three winners. Nigel Harper, Gerry Ellis, Margaret Byrne and Mark Burke. Next week's jackpot will be €14,800.
SET DANCING  
Roundwood set dancing will resume on Thursday 7th April in the parish hall starting at 9pm.  We look forward to welcoming back our usual dancers and also any new comers if they would like to join us, are always welcome. Admission to remain at €5.
 
DIAMOND BRIDGE CLUB 
Results Monday 28th April. North South: 1st Clare Salley & Mary Pierce, Joint 2nd Catherine Halligan & Monica Brady / Seamus Kennedy & P. O'Brien, 3rd Gertie Fee & Nancy O'Brien. East West:1st Marion Davis & Teresa Leahy, 2nd Catherine Mc Gillycuddy & Kay Plunket 3rd Phil Power & Bridie Nolan
MENS SHED  
Roundwood Men's Shed: Story telling, listening, caring, making new friends, gardening, tree planting, wood carving and basic woodworking are just some of our activities. We meet in our Shed at Pat Carr's place in Knockraheen on Tuesdays from 10 to 12. The kettle is the most important tool we have and all visitors are welcomed with open arms. You will be helping us and hopefully yourself if you come along. Sometimes it is in giving that we receive. The 'lockdown' for the past two years has taken its toll on our shed and the 400 other sheds throughout the country. So please spread the word. For further information feel free to call 086 8650588 at any time.
45 CARD GAME 
45 Card Game every Tuesday night in Moneystown Community Centre starting at 8pm. Teas served. All are welcome.
INDOOR BOWLS
Indoor Bowls resumed in Annamoe Centre on Tuesday nights at 8pm. New members welcome.
KNOCK TRIP 
There will be a Pilgrimage to Knock on Saturday 23rd April 2022 leaving Rathdrum Square at 7.15 am and leaving Laragh at 7.30am and Roundwood 8.am. Price per person is €75 which includes breakfast, dinner and bus all money. To be paid in full before 1st April and names as soon as possible. For more information contact Susan O'Neill 087 6273032

MEDJUGORJE PILGRIMAGE  
May 11th for one week. Accompanied by Spiritual Directors Fr Pat Madden and Deacon Pat O'Connell. Cost €729.00 which includes Insurance Aer Lingus flight; Half board accommodation beside Church; transfers to and from Medjugorje., For more information and bookings contact Group Leader Mary King on 087 2185067 

MOBILE LIBRARY 
Wicklow County Council Mobile Library will be in Roundwood Village on Thursday 7th April from 10am until 11.15am and also from 2.10pm until 4.30pm. Come along and join the library. It's a free service and is a fantastic way to pick up any book that suits your reading interests.

CANCER SUPPORT 
Our centre is now open. Hospital transport is being provided as per usual. Counselling for cancer sufferers and their family is available. Reflexology, massage and other therapies are available also. If you would like any further information regarding any of the above, please do not hesitate to contact us on 086 1534011 or call into the office for a chat.
 
LOCAL NOTES 
If you have an item or news that you would like to include in the Roundwood Notes contact Margaret Bolger the email address is mgtbolger@gmail.com