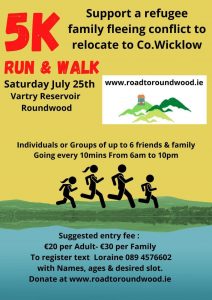 ROAD TO ROUNDWOOD
Is a local community project to support a refugee family fleeing conflict to relocate in Co. Wicklow. There will be a 5Kkm fun run and walk on Saturday July 25th at Vartry Reservoir Roundwood. Individuals or groups of up to six friends and family are encouraged to come along. Starting every ten minutes from 6am to 10pm. Suggested fee €20 per adult – €30 per family. To register text Loraine 089 4576602 with names, ages and a desired slot. Donate at www.roadtoroundwood.ie
GOLF SOCIETY RESULTS
Results of our President Tim Cronin's Prize played in Woodenbridge G.C.on July 12th. There was a fantastic turn out on the day. Well done to all the winners. First: Padraig Mullins 42pts. Second: Ger Kenna 37pts. Third: Ciaran Blackburn 36pts. Fourth: Sean Bury 36pts. Fifth: Tony Byrne 35pts. Class 1 First: Cian Staunton 34pts. Second: Colm Gaskin 33pts. Class 2 First: Denis Healy 35pts. Second: Mick O'Rourke 32pts. Class 3 First: James Lawless 34pts. Second: David Power 28pts. Front Nine: Danielle Singleton 19pts. Back Nine: Mick Bolger 17pts. Visitors Prize: Ciaran Martin 30pts.
ROUNDWOOD MARKET
Roundwood market is opening every Sunday thereafter from 12 noon until 4pm. Home Baking. Jams. Honey etc. Contact: Jacinta 0860722851.
PUBLIC TOILETS
Delighted to announce the refurbishment of the public toilets in Roundwood will commence in the coming weeks. Works will completely renovate the interior and make it accessible for all. This is something that has been needed for quite a while and I'm delighted that it is finally going ahead. Cllr Shay Cullen.
HERITAGE WEEK 2020
The Heritage Council is putting a callout for project ideas for National Heritage Week 2020. National Heritage Week, will run from Saturday, 15th – Sunday, 23rd August. This year, instead of events, the Heritage Council are looking for projects from individuals and groups all around the country that explore the theme of 'Learning from our Heritage'. To help you to choose a topic, three sub-themes are suggested Heritage on your doorstep, relearning skills from our heritage and the heritage of education. For further information check out https://www.heritageweek.ie/news/inspiration-for-your-national-heritage-week-project
NEW FREE CAR PARK IN LARAGH – GLENDALOUGH
Wicklow Co. Co. have opened a new free car park in Laragh. This is a secure facility with staff on duty, and shall be open daily between 8 a.m. and 8 p.m. It is located beside the Woollen Mills and GAA grounds in Laragh and is well sign-posted. The car park is perfect for hill walkers with access along the beautiful Green Road to Glendalough and all its walking trails. You can even avoid the valley floor if you wish by following the orange trail up towards Derrybawn, the Spinc and Mullacor. Three long distance trails also pass nearby – the Wicklow Way, St. Kevin's Way and the Avonmore Way.
LOCAL LINK BUS
Important notice to all local link passengers using the LL183 Glendalough to Wicklow service we are running a bigger bus due to demand. Social distancing remains in place on public transport. If passengers can look out for the J J Kavanagh bus rather than the usual bus.
J.M SYNGE
Local theatre maker Cliona O'Connell, and Aughrim based actress Andrea Kelly would love to talk to people in the area who have local knowledge or stories about the playwright J.M Synge, the Synge family and their connection to the Roundwood area. If you have any stories we would love to hear from you. You can email projectsynge@gmail.com , or give us a call/text on 087 4673858 and we will get back to you. Any information you have, no matter how small, is very welcome. We are currently working on the development of a new theatre project sited in the county, re-imagining Synge's life, work and connection to Wicklow. This project is funded under the Wicklow Artist Award Scheme 2020.
ROUNDWOOD PHARMACY
We have updated our opening hours: Monday – Friday Open 9.00am – 1.30pm (Closed for 1/2 hour 1.30pm- 2.00pm) Open 2.00pm – 6.00pm. Saturdays Open 9.00am – 1.30pm (closed for 1/2 hour 1.30pm- 2.00pm) open 2.00pm – 5.30pm.
Please be mindful that although the Covid-19 situation has eased there continues to be an impact on pharmacy processes and across the medical community in general. Please continue to order your medicines in advance. Please follow social distancing at the pharmacy and use hand sanitiser upon entering the pharmacy. WhatsApp: TEXT ONLY SERVICE to 087 360 5997 (text only service for ordering your medicines)
RESERVOIR DAM WALK
The walking trail on the top of the Upper Reservoir Dam is now reserved for vulnerable users and those aged 70+. All other folk are asked to please take the lower trail along the tree line which runs parallel. Thank you for your cooperation.
MEDJUGORJE
A pilgrimage to Medjugorje will take place on October 7th 2020 for seven days at a cost of €679.00 fully inclusive. €200.00 deposit secures booking. This trip will be accompanied by a Spiritual Director. The accommodation is close to the Church. For more information and booking Contact Mary King on 087 2185067.
JENNY'S PRE-SCHOOL
Jenny's Pre-school Moneystown: is now enrolling for September 2020 and 2021 anyone interested contact the school on 0861705238 or email Jennyspreschoolmoneystown@gmail.com
HELPLINE
The Wicklow County Council Covid Community Response Forum has developed a free helpline for vulnerable members of the community from 8am – 8pm 7days per week. Call 1800 868 399 or email CovidSupport@wicklowcoco.ie


LOTTO
The lotto has been suspended for the moment.
ROUNDWOOD CANCER SUPPORT


The Roundwood Cancer Support centre is closed to the public for the moment. If anyone needs to make any enquiries please telephone our confidential phone number 087 6062072.
LOCAL NOTES
If you have an item or news that you would like to include in the Roundwood Notes contact Margaret Bolger the email address is mgtbolger@gmail.com.