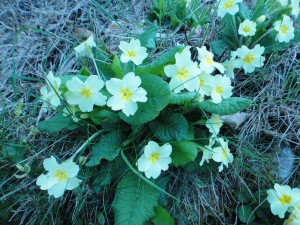 BLESSING OF GRAVES
The blessing of the graves in Glendalough cemetery will take place on Saturday 16th May at 8pm and in Laragh Cemetery on Saturday 23rd May at 7.45pm.
TRACTOR RUN
Annamoe Tractor Car and bike run will be held on Sunday the 19th April at 12 noon.  A great day for all the family, come along and have a fun day.
BINGO
Fun Bingo will take place on in the Parish Hall on Sunday 19th April from 3pm.  Family members and friends are more than welcome to attend.  €5 per book and great raffle prizes.  Come along and enjoy
LUNCH CLUB
A reminder that the Active Retirement Lunch club will take place on Friday 24th April in The Coach House, Roundwood at 1.30.
YOGA
A new course of 10 Yoga Classes will resume on Thursday 16th April in Roundwood Parish Centre -7:30pm to 9:00pm. Classes cost 10 euro per class with a commitment of 50 euro due on first night. Class will include:-Asana (physical stretching and stamina) Pranayama (breathing techniques to calm the mind),  Deep relaxation, Meditation.  All are welcome. Further details contact Anne-Marie  0868367578
TABLE QUIZ
Moneystown Community Centre are holding a table quiz on Friday 24 April at 8.30 pm in Kavanagh's of Roundwood in aid of Moneystown Community Centre. Table of four €40.
CAR BOOT SALE
The next car sale and book fair in the Parish hall Roundwood will be held on Sunday April 26th 2015. For information and bookings please contact Bernie on 087-3932730 or email us to theroundwoodparishhall@gmail.com.
LOTTO RESULTS
There was no jackpot winner in last weeks draw. Numbers drawn were 9, 22, 23 &28  There was one match three winner, Bridie Healy. Next weeks jackpot will be €8,300
HOME PRODUCERS MARKET
Roundwood Home Producers Market re-opened on Sunday 29th March in the Parish Hall,  Roundwood.  Times 12 noon to 5pm.  We will have home baking, jams, vegetables, crafts, plants and much more.  New members always welcome
DANCE
There will be a dance  in Roundwood Parish Centre on on Friday April 17th Music by Tony Davitt, Refreshments served starting at 9 p.m.  All are welcome.
002 BRIDGE
1st for North/South on Friday 10th April were Jim McNamara and Triona Woodroofe, 2nd Monica Brady and June Digby, 3rd Seamus Kennedy and  Nancy O Brien and 4th Molly Byrne and Rachel Judd.  Takikng 1st place for East/West were Ger Lenihan and Paddy O Brien  2nd Kitty Heslin and Teresa Leahy, 3rd Pat Rushe and Miriam Coyle and 4th Bridie Nolan and Maura Gaskin.
PERSONAL ALARMS
The Roundwood and District Community Council are registered to administer the senior alert scheme which provides grants to elderly people towards the provision of personal alarms. The personal alarm offers reassurance to allow independent living, safe in the knowledge that you can quickly be in contact with a family member or neighbour in the event of an emergency. It provides security and peace of mind. If you would like more information please contact Monica on 086 8055040
HUMPTY DUMPTY
Roundwood Humpty Dumpty Playgroup is on this Wednesday from 10am til 11.30am in the Parish Hall. There are toys galore to keep the little ones busy and plenty of good company and tea for everyone else!  €2/€3.50 for Cuidiu members/non-members. All Welcome
AIKIDO
Aikido is a non-competitive Japanese Martial Art for Flexibility, Coordination, Relaxation and Self-Defence, Joe McHugh 4th Dan Aikido will hold class in O'Rahilly Hall, Church Terrace (off Main Street), Bray on Wednesdays 18.30-19.45 (Beginners), 19.45-21.00 (General Class) Open to All (from 14 Years),Adult: 8 €, Unemployed and Students: 5 €/Per Class.Contact: 086/101 96 68 and www.aikidoikedadojo.ie
ANNAMOE CENTRE
Annamoe tennis court is available for use click on to Jamie Stafford website to book for coaching  or you can hire by the hour It is €5 for two hours and €8 Euro for four you can contact 086 8188499 or 087 6191500
JENNY'S PRESCHOOL
Jenny's Pre-School, Moneystown is now taking enrolments for September 2015. Free ECCE places are available. All staff are fully qualified, registered with the HSE, fully insured and Garda vetted. For more information please contact Jenny on 086-8766301 or emailjennyspreschoolmoneystown@gmail.com.
ROUNDWOOD A.F.C. DINNER DANCE
Roundwood AFC are celebrating their 40th anniversary with a dinner dance at the Parkview hotel, Newtownmountkennedy on the 12th June at 7.30pm. Music by: Just Us and DJ till late. Tickets are €20 for three course meal. Please contact Jason Walsh for tickets at 086 3841027
WHIST
The next whist will be on tonight Wednesday 15th April.
DAY TRIPS
There wiill be a pilgrimage to Knock on 23rd May, 2015 leaving Laragh at 7.45am and Roundwood at 8am at a cost of €55 per person for bus, breakfast & dinner.  All money to be paid in full before 1st May to secure your seat.  Please note cange in time and money.  There will be a day trip cruise on the Shannon on 4th July departing Roundwood at 8.30am. This includes a cruise on the River Queen and then to Athlone Castle and shopping. Dinner, tea scones for a price of €65. Names and money before 1st May  Finally a day trip to the Boyne valley on the 8th August leaving Roundwood at 8.30am . After a visit to 18th entry Oldbridge House and all the Boyne has to offer we travel to Drogheda. Dinner, tea & scones for €65 per person. All names and money before 1st May. For further information on any of these trips contact Susan on 0404 45276 after 6pm.
MEDJUGORJE
Pilgrimage to Medjugorje September 30th 2015 for a week Cost €689.00 which includes flights Insurance Half Board Accommodation in house beside Church and transfers to and from Medjugorje.. For more information/ booking contact Mary King on 087 2185067
SET DANCING
Welcome back to our weekly Thursday night sessions from 9pm until 11pm in Kavanaghs lounge – Michael and Brian will be playing until March  For any enquiries phone 087 2121522. This could be your New year resolution to get fit. We couldn't make it easier and all for 45.Visitors to the area and beginners are always welcome. If you would like a quick lesson on the steps before the session begins just give Sheila a call on 087 2121522.
ANGEL HEALING
Angel Healing takes place every Monday night at 7.30 in the Parish Centre, Roundwood Village. It is non denominational. Come along, to a night of Meditation ,Relaxation and Spiritual connection, . For more information contact Mary 087 9819420
SECOND HAND BOOKS FOR SALE
Second Hand Books now on sale in the Parish Hall. All proceeds go towards the Parish Hall Fund. Huge variety available. We will gratefully accept all donations of books to help our cause
 ROUNDWOOD PARISH HALL
The new purpose built Parish Hall in Roundwood is now available for all social events, meetings, parties, christenings, workshops, training courses.These great facilities are now available. For more information contact us on 0879627527 , 0873932730 or theroundwoodparishhall@gmail.com
 45 CARD DRIVE
45 card game every Tuesday night in Moneystown Community Centre starting at 8.45pm. Teas served. All welcome.