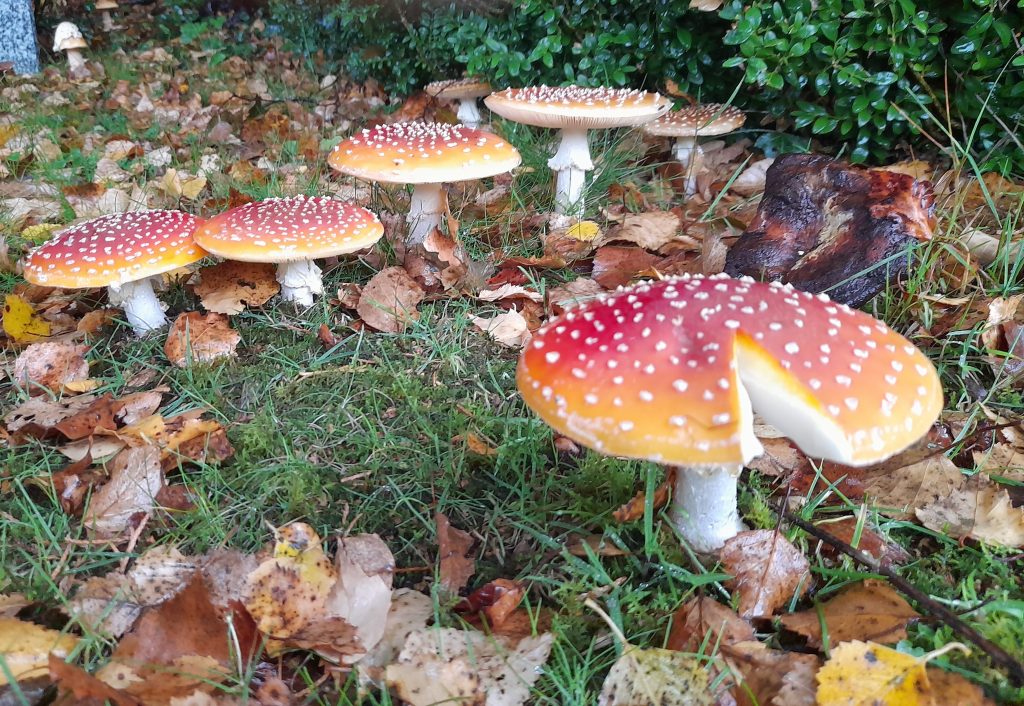 WALK CHALLENGE 

Want to get out walking but need some motivation – especially in these dark evenings? Why not join the Roundwood Walking Eight Week Challenge starting on Wednesday the 2nd of November at 7pm. The walk will begin from the Parish Hall in Roundwood on the footpaths under the street lights for as long as you wish. Children are always welcome with adult supervision. Especially for week 1 during the midterm break, we hope to see lots of children in their Halloween costumes. There may even be some surprises and tasty treats for both kids and well-behaved adults along the way! Do come along and join the fun! This initiative is facilitated by the Roundwood & District Community Council with financial support from Wicklow Sports & Recreation Partnership.
COMMUNITY COUNCIL AGM
The Roundwood and District Community Council AGM will take place on Monday November 14th at 8pm in Roundwood Parish Hall. All are welcome.
ANNAMOE BOWLS 
Annamoe played Kilcoole in the East Coast League in Annamoe on Tuesday 25th October and secured all six points for a match win. Annamoe were represented by Bob Heatly, Peter Byrne, Michael Bolger, Martin Byrne, Michael Timmons, Noel Bolger, Tom Heatly & Joe Timmons.
PARISH SALE OF WORK 
The Sale of Work will take place on Sunday 4th December from 12 noon to 4 pm.
 
ACTIVE RETIREMENT NEWS
Senior's Bingo – Sunday 20th Nov and Sunday the 18th Dec at 3pm in Annamoe Centre.
Senior's Christmas Lunch Friday 25th November at the Roundwood Inn for 1pm. Limited places please contact Mary at 087 6595381 if attending.
Senior's Christmas Day out Monday 12th Dec. it includes. A wonderful afternoon of fine dining, music and comedy at the Shamrock Lodge Hotel, Athlone, Co. Westmeath. This cost includes all of the following: Transfer to and from Roundwood, Tea/coffee reception, Music and festive carols with Joe, Frankie and Showcase & special guest Lorraine McDonald, Sumptuous 4 Course Festive Dinner. Comedy with the hilarious Frank Forde shortly after the meal followed by Music with Brendan Shine & his Super Band! (4.00pm-6.00pm) Cost: €75. Contact Mary at 087 6595381
LOTTO 
Results of the draw held on Sunday 30th October. There was no jackpot winner. The numbers drawn were 4, 7, 20 & 29. There were six match three winners. L & V Byrne, J Connolly, Pat Doyle, K Flynn, SECE Wolohan, & MJD. Next week's jackpot will be €23,200.
REMEMBRANCE MASS 
The Annual November Mass of Remembrance for those whose funerals took place in our Parish Churches between October '21 and September '22 will take place in Roundwood Church next Saturday, 5th November at 7 pm.
The Annual Mass of Remembrance in Glendalough Parish will take place on Sunday 13th November at 11.30 am
BADMINTON  
We are open for adults Monday and Wednesday at 7.30pm in Aras An Tochar GAA Complex. We are open for Juvenile Secondary School students from 7.30pm until 9pm. Coaching to follow later in the season.
TABLE TENNIS 
We are back at the parish hall on Monday nights 7.30-9.30pm for table tennis all levels catered for. A fun way to keep fit. €5 per night. Contact Brian Higgins 085 118563
SET DANCING  
Roundwood set dancing has resumed on Thursday nights in the parish hall starting at 9pm. We look forward to welcoming back our usual dancers and also any new comers if they would like to join us, are always welcome. Admission €5.
INDOOR BOWLS   
In Moneystown Community Centre, continuing every Monday at 8.30 pm. Looking forward to seeing you there. Beginners are very welcome.
MOBILE LIBRARY 
Wicklow County Council Mobile Library will be in Roundwood Village on Thursday 3rd November from 10am until 11.15am and also from 2.10pm until 4.30pm. Come along and join the library. It's a free service and is a fantastic way to pick up any book that suits your reading interests.
LOCAL NOTES
If you have an item or news that you would like to include in the Roundwood Notes contact Margaret Bolger the email address is mgtbolger@gmail.com