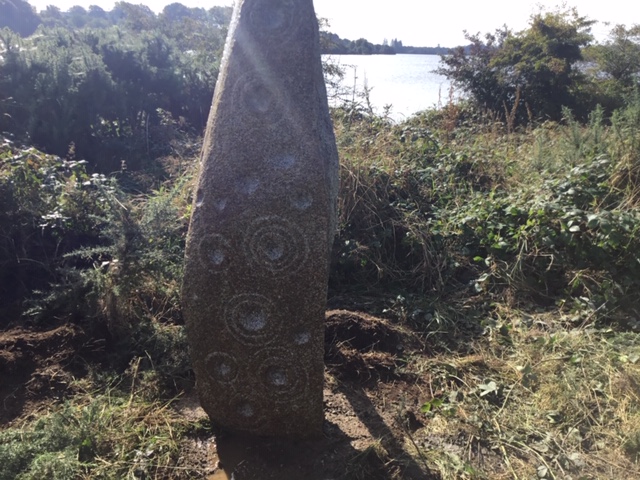 ROUNDWOOD & DISTRICT MEN'S SHED
Sadly, because of conditions beyond our control we have not had a SHED get-together since 10th March. We still try and communicate with each other although we are not all up to speed with modern technology and social media.Why not try ZOOM I can hear you say! Many of our members still use the old-type mobile phones so ZOOM is not an option at the moment.
Last week our Rock Art Project was finally put in place along the Vartry Trail. It is a large upright granite rock with Ogham and Neolithic 'writing'. The carving was done by the 'chisellers' in the SHED with the guidance and tuition of Seighean Ó Draoi. The granite rock was split with wedges and was originally intended for use as a gate post. It has found a new life celebrating an old art form and there is no truth in the rumour that some of the elders in the SHED are considering having their ashes spread on the lake close to the stone.
THANKS: It is with sadness that we learn that O'Rourke's saw mill in Annamoe is finally 'logging out'. As well as the timber there were always the stories, recipes for cures and so much local history. If the timber requested was for a project in the SHED the lighting of a candle was the regular form of payment requested. Sincere thanks and best wishes to Pat and Anthony in their retirement.
PARISH OF ROUNDWOOD & MONEYSTOWN
A Parish Newsletter listing mass times and Intentions is available weekly  via email from the Parish Office.  Please email roundwoodparish@gmail.com to be added to the mailing list. Thank you.
GOLF SOCIETY RESULTS
Our Captain Willie Kenna's Day held in Coolattin on September 12th results. First: Jimmy Nash 41pts. Second: Paul Gaskin 36pts. Third: Eoin Mason 35pts. Fourth: Donny O'Reilly 34pts. Fifth: Ian Hamiliton 33pts. Class 1: First Danielle Singleton 30pts. Second: Simon Carroll 30pts. Class 2: First Denis Healy 30pts. Second Declan Carstairs 28pts. Class 3: First Mark O'Gorman 32pts. Second David Power 32pts. Front Nine: Deirdre Carroll 16pts. Back Nine: Mick O'Rourke 18pts. Visitor's Prize: Ian McGauley 30pts. Three Birdie Winners: Simon Carroll, Ger Kenna & Brendan Brady.
ROUNDWOOD MARKET
Roundwood market is open every Sunday from 12 noon until 4pm. Home Baking. Jams. Honey etc. Contact: Jacinta 086 0722851.
COVID HELPLINE
The Wicklow County Council's COVID-19 Community Call Helpline is still operational between 9am – 5pm everyday, 7 days a week. Our team of dedicated staff are here to help the elderly and vulnerable people who need urgent assistance at this time. FREE Phone: 1800 868 399TEXT: 087 245 687. Email: CovidSupport@wicklowcoco.ie
LOTTO
The lotto has been suspended for the moment.
ROUNDWOOD CANCER SUPPORT
The Roundwood Cancer Support centre is closed to the public for the moment. If anyone needs to make any enquiries please telephone our confidential phone number 087 6062072.

LOCAL NOTES
If you have an item or news that you would like to include in the Roundwood Notes contact Margaret Bolger the email address is mgtbolger@gmail.com