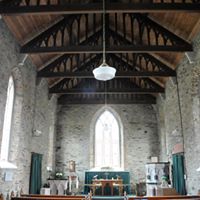 Some upcoming concerts taking place in Calary Church this month:
On Friday 21 June, Musici Ireland with Lance Coburn (piano) Miriam Roycroft (cello) and Beth McNinch (viola) will perform Beethoven's Eyeglass Duo, Schumann's Marchenbilder, Da Falla's  Suite Popular Española, Carl Vine's 5 Bagatelles and Brahms's Piano Trio in A minor Op. 114.
On Tuesday 25 June, Ellen Jansson (piano) will perform Beethoven's Sonata in A-flat Op. 26, Debussy's Feux d'artifice, Alexina Louie's 'Warrior' from Scenes from a Jade Terrace, Bach's Chromatic Fantasie and Fugue and Liszt's Ballade No 2.
Local artist, Declan Cooke (piano) will perform Edvard Greig's 'Wedding Day at Troldhaugen'
On Thursday 27 June, The Janet Ashe Memorial Concert: Adam Heron (piano) will perform Bach's French Suite No. 3 in B-minor BWV 814, Schubert's Piano Sonata No. 16 in A-minor D. 845, Albéniz's Iberia, Cuaderno 1 and Beethoven's Sonata No. 14 in C-sharp minor Op. 27 No. 2 "Moonlight".