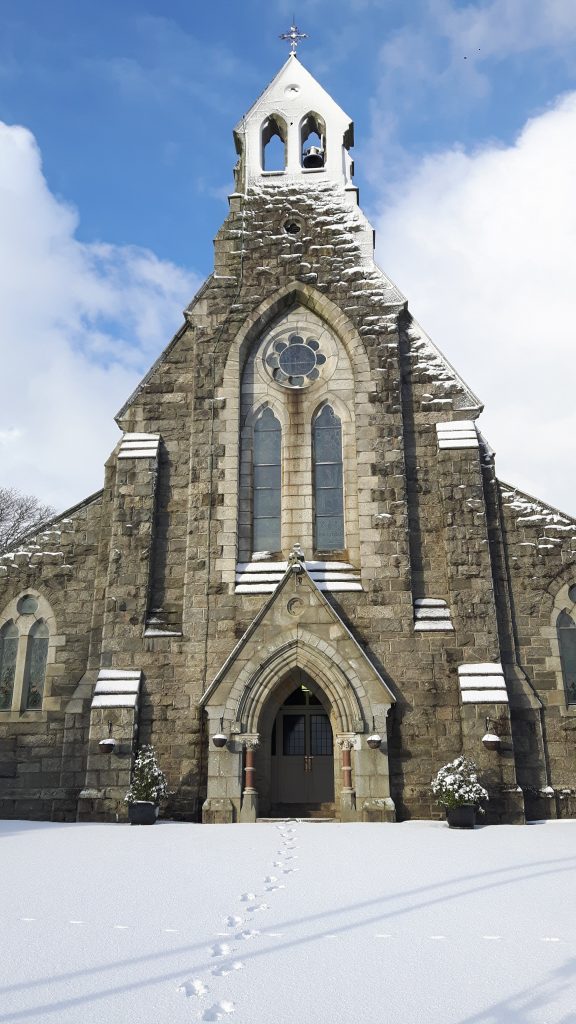 PLOUGHING MATCH
Roundwood Ploughing Society are holding their annual ploughing match on Saturday the 23rd of February, 2019 @ 12 noon sharp in Glasnamullen.  Sincere thanks to Richard Turner for providing the site. Conventional, Vintage, Classic Tractor and Horse Classes will be catered for on Lea ground.  Could all competitors please have their names registered before 6pm on Wednesday the 20th of February, with Brendan Power @ 087 2420204.  Spectators young and old, as always
COMMUNITY COUNCIL
The next Roundwood & District Community Council meeting will take place on Monday 11th of February at 8pm in Roundwood Parish Centre. All welcome.
DIAMOND BRIDGE CLUB
North/South winners on 5th February were Phil Power & Brid Clancy, 2nd Monica Brady & Gertie Fee, 3rd Catherine McGillycuddy & Bridie Nolan and 4th Ger Lenihan & Paddy O Brien.    Victors for East/West were Clare Sally & Kay Plunkett, 2nd Catherine Halligan & Claire O Connor, 3rd Rowena Brady &  Margaret Bolger and 4th Margaret Byrne & Pamela Byrne.
ANNUAL MASS OF REMEMBRANCE
The Annual Mass of Remembrance for Parishioners and family members of Parishioners, who died since March last year, and whose funerals took place outside the Parish, will take place on Saturday, February 23rd at 6.00 pm.  There is be a box in the church porch for the names of loved ones.  These names will be placed on the Altar during the Mass
LUNCH CLUB
The next active retirement lunch takes place on Friday 22nd February in The Coach House at 1.30pm.
ROUNDWOOD CANCER SUPPORT
The Roundwood Cancer Support centre is now up and running and is open in the Parish Centre on Monday, Wednesdays and Fridays from 10a.m until 1pm. Please feel free to pop in for a chat we will be happy to help. If anyone needs to make any enquiries outside these hours please telephone our confidential phone number 087 6062072
PERSONAL ALARMS
The Roundwood and District Community Council are registered to administer the senior alert scheme which provides grants to elderly people towards the provision of personal alarms. The personal alarm offers reassurance to allow independent living, safe in the knowledge that you can quickly be in contact with a family member or neighbour in the event of an emergency. It provides security and peace of mind. If you would like more information, please call 086 8055040.
WHIST RESULTS
Next whist is on Wednesday 13th February in The Parish Centre.
HISTORICAL SOCIETY
Roundwood Historical Society will hold their AGM on Monday 25th February 2019 at 8pm in Roundwood Parish Hall.  There are a number of vacant positions on the committee so please feel free to contact any member of the committee if you would like to be nominated for a position or suggest someone for a nomination.  In addition to the AGM we have two talks scheduled for March and April.  The March talk will take place on Tuesday 5th March at 8pm in Roundwood Parish Hall.  The topic is the 100th Anniversary of the First Dail and will be given by Éamon Ó Cuív, TD. The April talk will take place on Monday 29th April 2019 at 8pm in Roundwood Parish Hall.  The topic of the talk is the Repatriation of WB Yeats and the Non Repatriation of James Joyce based on a new book by Anthony J. Jordan who will deliver the talk.
DANCE
The monthly dance will take place in Roundwood Parish Centre on Friday 15th February with music by John Flood.
TRIPS
There will be a five day trip to Slovenia on the 4th April to the 9th April at a cost of €699 per person sharing. As there are limited places a deposit of €200 is required asap. There will be a tour of Scotland in August/September  dates to be decided & a Westport country music break in October 2019 which includes some day trips. For more details please contact Susan on 0876273032.
MEDJUGORJE
Pilgrimage To Medjugorje October 9 th for one week . Cost €679.00 fully inclusive. Accompanied by Spiritual Director  & staying in house beside Church For more details & booking please contact Mary King on 087 2185067
LOTTO RESULTS
There was no jackpot winner in last weeks draw The numbers drawn were:-7, 9, 12 &14 There were fourteen match three winners, Noel McCoy, Faith McMahon, Gina Coster, Ross Hempenstall, John Byrne, Tom O'Gorman, T. Shannon, Fiona Timmons, C. Costello, Maureen Doyle, Matthew Fox, Joe Synnott T & T & Mark Burke Next weeks jackpot will be €25,600.
SECONDARY SCHOOL BADMINTON
Badminton for Secondary school children continues every Mon from 6 30pm to 7.30pm.. We have a small supply of racquets available. Come along and bring your friends.  Beginners particularly welcome
SET DANCING
Set dancing in Kavanagh's every Thursday night from 9 until 11pm BADMINTONMorning badminton has resumed on Tuesday morning from 9.30pm.  All are welcome.
WALKING GROUP
Roundwood Whizzers Walking Group are back in action meeting at 7pm every Wednesday at the Coach House car park.  All welcome to walk at your own pace for approximately one hour.
ANGEL HEALING
Angel Healing and Angelic Guidance is back tomorrow evening Monday the 3rd of September in the Parish Hall Roundwood at 7.30 sharp. So if you would enjoy an evening of peace relaxation and hands on energy healing join us for a wonderful new experience.
AN TÓCHAR GAA
Alex Grey, PSquared Performance, is on hand to guide you through your fitness programme in the An Tóchar Fitness Centre.  Call up or ring Alex to join any of the classes or to discuss personal training. https://www.facebook.com/psquaredperformance
45 CARD GAME
A 45 Card Game takes place every Tuesday night in Moneystown Community Centre starting at a new time of 8. pm for the winter months beginning on the 30th October  Teas served. All are welcome