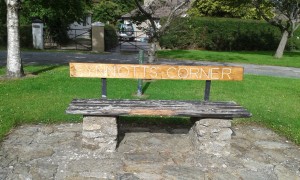 NEW FOOTPATH
After many years of campaigning it is great to see the construction by Wicklow Co Council of the new footpath from Synnott's Corner to Water's Bridge. The path will provide safer access from the village to the walks at the Vartry Reservoir. Thanks to our local Councillor Shay Cullen and the Roundwood & District Community Council for making this happen.
CHRISTMAS PARTY NIGHT
There will be a Christmas party night with Red Hurley show on Tuesday 8th December at the Ballsbridge Hotel which will include a four course Christmas dinner and show at a cost of €59 per person.  Please contact Susan at 0404 45276 any evening after 8pm if interested.  All monies must be paid before 15th October.
PARISH DANCE
The Roundwood Parish Hall monthly Dance will be held on Friday August 21st with dancing to Tony Davitt from 9 p.m. till late. Teas served, refreshments also available, Raffle prizes. Come along and enjoy a night of waltzing jive.
DIAMOND BRIDGE CLUB
Back to Bridge time is almost here.  Bridge resumes in Roundwood on Monday 7th September at 7.45pm in Roundwood Community Hall.   Bridge lessons for Beginners to start a week or two later.  Interested parties please contact Triona on 087 7630968.   002 Bridge Club resumes play on Friday 11th September at 9.45am.
CAR BOOT SALE
The next Parish Hall Car Boot Sale will be held on Sunday September 13th for Information and Booking please contact us by email theroundwoodparishhall@gmail.com or by ringing Bernie on 087-3932730 or Ben 087-9627527 Indoor and outdoor spaces available, Booking is essential as limited to 22 tables indoor. Open to stall holders from 10 a.m open to the public from 12 noon to 5 pm Tables can only be held until 11.30 a.m
BRIC – A – BRAC
We are looking for any donations of Bric – A – Brac for our stall at the Car Boot Sales  Donations of any unwanted household items would be gratefully received.  All donations can be left in the kitchen of the Parish Hall.  No clothes or soft toys and electrical items only if boxed and in working order. Don't Bin it – Donate it
COMMUNITY EDUCATION
The Kildare Wicklow Education Training Board are currently advertising funding support towards classes in the local community. Some previous courses organised by the Roundwood & District Community Council with their support included beginners digital camera, flower arranging and cookery. If you are interested in taking part in such classes or others such as basket making, painting, etc. please call 086 8055040 or email info@roundwood.ie
PHOTO EXHIBITION
The Roundwood Old school Reunion took place on the August Bank holiday weekend to great reviews. Due to the many requests the photography exhibition will be on display from 7pm to 9pm on Saturday 29th and from 12 noon to 2pm on Sunday 30th of August. All welcome
CALARY CHURCH DURING HERITAGE WEEK
There will be free guided tours of Calary Church and graveyard explaining the start of the parish and its continuing life in the community during Heritage Week. The church will be open between 2pm and 6pm on Saturday 22nd, Sunday 23rd, Saturday 29th, Sunday 30th August and we look forward to welcoming you.
MUSIC IN CALARY
The next event in the Music in Calary series will take place at 8pm on Friday 21 August when John Purser, composer, poet and foremost historian of Scottish music will introduce many of his own compositions. A frequent contributor to Radio Scotland on classical music, this promises to be a wonderful and intriguing evening. Tickets are €15 and €12 for concessions and can be booked by emailing derekneilson@eircom.net  or phoning John at (01) 2818146.  Music in Calary is supported by Wicklow County Council and FBD Insurance
LOTTO RESULTS
There was no jackpot winner in last weeks draw.  The numbers drawn were 1, 9, 14 & 22  There were six match three winners, A Doherty, T Reddington, J. Byrne, N McGillycuddy, R. Mcauley & P. Byrne.  Next weeks jackpot will be €13,700
WHIST
The next whist will be on Wednesday the 19th August in the Parish Centre.
HOME PRODUCERS MARKET
Roundwood Home Producers Market continues in the Parish Hall, Roundwood.  Times 12 noon to 5pm.  We will have home baking, jams, vegetables, crafts, plants and much more.  New members always welcome
TENNIS AT THE ANNAMOE CENTRE
If you wish to get the basic lessons on how to play tennis come along on Saturday mornings to The New Tennis Court at Annamoe from 11 to 1 oclock and join in the fun.
ANGEL HEALING
Angel Healing takes place every Monday night at 7.30 in the Parish Centre, Roundwood Village. It is non denominational. Come along, to a night of Meditation ,Relaxation and Spiritual connection, . For more information contact Mary 087 9819420
SECOND HAND BOOKS FOR SALE
Second Hand Books now on sale in the Parish Hall. All proceeds go towards the Parish Hall Fund. Huge variety available. We will gratefully accept all donations of books to help our cause
ROUNDWOOD PARISH HALL
The new purpose built Parish Hall in Roundwood is now available for all social events, meetings, parties, christenings, workshops, training courses. These great facilities are now available. For more information contact us on 087-9627527 , 087-3932730 or theroundwoodparishhall@gmail.com
 45 CARD DRIVE
45 card game every Tuesday night in Moneystown Community Centre starting at 8.45pm. Teas served. All welcome.