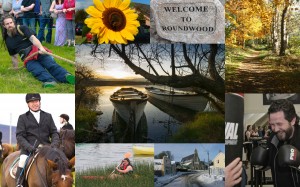 The Roundwood and District Community Council are delighted to announce the launch of their Roundwood Calendar 2015. The calendar came about as a result of a number of digital camera courses organised by the group with the support of the Community Education Programme of Kildare and Wicklow Education and Training Board. The community rallied to the call for photographs with the group receiving hundreds of images by email, on disc and memory sticks. The committee spend many hours on many nights choosing the photographs for inclusion, which was no mean feat.
There is a fantastic array of photographs included in the calendar depicting events in Roundwood including the local Ploughing Match and the Roundwood Festival by talented photographers Darren Flynn and Pat Cahill. The fantastic scenery of the area is very evident as highlighted by the stunning cover photograph by Tony Brierton of the Wicklow Anglers boats on the Vartry Reservoir. The winning pictures by Hannah Fox and Ciaran O'Brien from the Roundwood Festival Children's photography competition also feature which bodes well for the future of photography in the area.
The Roundwood Calendar will make a great gift this Christmas for family and friends and especially 'Roundwoodites' living abroad! The calendar will be on sale at a special price of €6 at its official launch reception in Roundwood Parish Hall and Centre on the 29th of November at 7:30pm. Thereafter it will be on sale in local outlets and at the Roundwood and Moneystown Parish Sale of Work for €7. Lights refreshment will be served, admission free and all are welcome to attend.