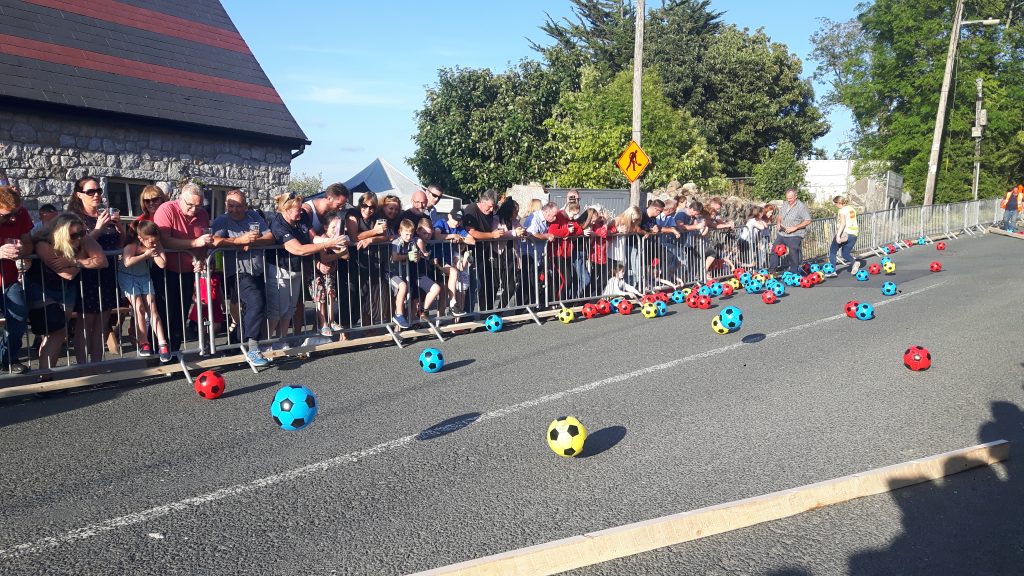 MUSIC IN CALARY 
The second concert of our 2022 series will be at 8 pm on Friday 24 June in Calary Church when the performers will be Maria Ryan and Jane Hackett (violins), Beth McNinch (viola), Katie Tertell and Annette Cleary (cellos) from Musici Ireland together with Eamonn Sweeney (guitar). For details of their programme or to book tickets, which are €18 and €15 for concessions, please email derekneilson@eircom.net or ring John on (01) 2818146.
GOLF SOCIETY 
Results from our outing to Palmerstown G.C. on Saturday June 4th. First: Declan Carstairs 30pts. Second: Dave Bury 29pts. Third: Margaret Bolger 29pts. Fourth: Darren Meaney 28pts. Fifth: Danielle Singleton 28pts. Class 1 First: Brendan Brady 28pts, Second: Ian McAulay 26pts. Class 2 First: Mick Bolger 25pts, Second: Peter Ward 25pts. Class 3 First: Deirdre Carroll 24 pts, Second: Richie Cullen 23pts. Front Nine: Eoin Mason 14 pts. Back Nine: Tony Byrne 18pts. Nearest the Pin: Deirdre Carroll. Visitor's Prize: A Lawless 30pts. Next outing is in Woodenbridge G.C on July 24th playing for Mr President Tim Cronin's Prize.
LOTTO
Results of the draw held on Sunday 12th June. There was no jackpot winner. The numbers drawn were 2, 13, 14 & 20. There were six match three winners, Triona Snell, J McDermott, J McDermott, Jimmy Doyle, Mick & Deirdre Thomson. Next week's jackpot will be €17,800.
SOCIAL WHIST 
Next Whist Wednesday 15th June at 8pm in the new parish hall come along and enjoy a night of cards with us.
JENNY'S PRE-SCHOOL 
Jenny's pre -school Moneystown has a limited number of places left for September 2022 and are now taking enrolments for 2023. Enquiries to jennyspreschoolmoneystown@gmail.com
AIKIDO 
Is a non-competitive Japanese Martial Art for Flexibility, Coordination, Relaxation and Self Defense. Instructor Joe McHugh 5th Dan Aikido Aikikai. Moneystown Community Hall. Wednesdays 19.30 STARTING ADULTS ONLY 15th June 2022 (Beginners especially Welcome) COST €5 Unemployed € 8 Employed. For information Contact 086/101 96 68
BINGO 
Active retirement bingo will take place in Annamoe Community Hall on Sunday 26th June at 3pm. Everyone is welcome.
COUNTRY MUSIC 
Westport Country Music Break 23rd-28th of October 2022. 5 nights 6 days music every night and tours to Achill Island, Galway and Leenane. All in price €499 pp sharing. €100 extra for Singles. Dinner B&B. Deposit of €200 and names before 15th July 2022 and remaining money to be paid in full by 15th of August 2022.For further information, Contact Susan at 087 6273032

SET DANCING  

Roundwood set dancing has resumed on Thursday nights in the parish hall starting at 9pm. We look forward to welcoming back our usual dancers and also any new comers if they would like to join us, are always welcome. Admission €5.

45 CARD GAME 
45 Card Game every Tuesday night in Moneystown Community Centre starting at 8pm. Teas served. All are welcome.
MOBILE LIBRARY 
Wicklow County Council Mobile Library will be in Roundwood Village on Thursday 16th June from 10am until 11.15am and also from 2.10pm until 4.30pm. Come along and join the library. It's a free service and is a fantastic way to pick up any book that suits your reading interests.

CANCER SUPPORT 
 
Our centre is now open. Hospital transport is being provided as per usual. Counselling for cancer sufferers and their family is available. Reflexology, massage and other therapies are available also. If you would like any further information regarding any of the above, please do not hesitate to contact us on 086 1534011 or call into the office for a chat.

LOCAL NOTES 
If you have an item or news that you would like to include in the Roundwood Notes contact Margaret Bolger the email address is mgtbolger@gmail.com