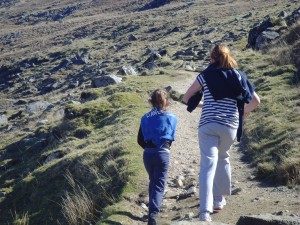 Hill Walk
The festival hill walk takes place on the morning of Saturday 30th of July and is a great one! It starts at Glendalough and will include the Spinc, Lugduff and will finish at Glenmalure (this route is different from that previously advertised). This route is suitable for people who are interested in hill-walking.  The majority of the route is over a marked trail and is approximately 4 hours long. 
There will be a bus transfer, kindly provided by Gerry O'Toole for free, from Roundwood to the start of the walk and a return bus to Roundwood from Glenmalure.
You will need to pre-register for the walk.  Please email info@roundwood.ie with the name(s) and a contact phone number to save your place(s) on the walk. Places on the walk are limited.
Historic Walk
Take a walk around the grounds of Glendalough House on Saturday the 30th of July. The Glendalough Estate provides a fitting location this year with the centenary of the 1916 Rebellion and its associations with the Barton and Childers families. Members of the Roundwood and District Historical and Folklore Society have kindly agreed to guide this walk which will be both informative and scenic. All those attending are requested to meet in the car park at Aras an Tochar at 10:30am  (please note change of time) to allow for car-pooling before heading down to Annamoe.

There is a charge of €5 for taking part in the walks. This money is used to cover the costs associated with organising the festival.