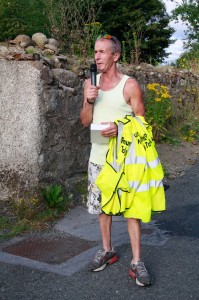 Photo courtesy of Pat Cahill
VOLUNTEER OF THE YEAR
Some of you may not be aware but Terry Kavanagh has been nominated for the National Volunteer of the Year Awards.  Terry wants to thanks everyone who nominated him for this Award. He is both shocked and humbled by it all & will admit to a few speechless moments – which you will all know is rare for him! As a result of the Volunteer Ireland nomination his name has gone forward as a finalist for the Better Together 2015 Charity Hero Award. This is a lifetime achievement award – he has been around a bit longer than some of us – which, if he wins, he will donate €1000 to a charity of his choice. To be in with a chance he needs your help. Please use this link http://2015.bettertogether.ie/charity-hero every day between now and the 4th of December and vote for Terry – He is last on the list, which he hopes is not a bad omen! You can vote for Terry every day.  The judging panel will select a single winner from the five nominees with the most votes. We are aware that we all have busy lives but he would greatly appreciate if you could vote as often as you can & spread the word on his behalf. Many thanks again for your all your kind words & support to date. Keep up the good work!
 SALE OF WORK
The Roundwood and Moneystown Christmas Parish Sale of Work will take place on Sunday the 6th of December 12-4pm in the complex. As always we will be delighted with helpers and donations for all the stalls and raffles. In particular we are looking for home bakers. Like last year we would like to have a home baking stall where people can purchase some home made bakes to take home for their tea. If you can help out in any way please contact Caroline Sillery on 086 1714973
ANNAMOE CENTRE
The centre will be open on Saturday 7th November and 14th November if you have sale-able donations you can drop them in on either days  Our Women/mens shed will be on Wednesdays from 10. 30am. We have bowling, crafts etc.
CABARET
A cabaret in aid of the Senior Citizens Christmas party will be held on Friday 27th November in The Glendalough Hotel. Your support would be greatly appreciated.
MONEYSTOWN DANCE
The Wicklow man will play in Moneystown Community Centre on Friday 13th  November from 9.30 till 12 midnight. Teas served refreshments, door prizes, refreshments also available. Come along and enjoy a night of waltzing jive etc
DANCE
The Roundwood Parish Pioneer/ monthly Dance will be held on Friday November 27th with dancing to Tony Davitt  from 9 p.m. till late. Teas served, refreshments also available, Raffle prizes. Come along and enjoy a night of waltzing jive.
CAR BOOT SALE
The next Roundwood Parish Hall car boot sale will be our Christmas gift and craft fair which is been held on Sunday December 13th stalls opened to the public from 10 a.m. – 4 p.m.  There will be indoor and outdoor spaces available. To book a stall Phone: 087-630807.
KILMACANOGUE  HISTORY  SOCIETY
Autumn   Programme   2015.  December 1st,Georgian Dublin in Maps with Rob Goodbody in the Glenview  Hotel, Glen of the Downs at 8.30PM (first Tuesday of month)   Entry €3 (members €2) – all welcome
Website:         kilmacanoguehistorysociety.com
NATHAN CARTAR BUS
A bus to go to see Nathan Cartar in The Amber Springs Hotel in Gorey will leave Roundwood on  21st November at 6.30pm.  Anyone wishing to go must have purchased their own ticket as this is bus only.  To book your seat contact Susan at 0404 45276 any evening after 8pm
LOTTO RESULTS
There was no jackpot winner in last week's draw.  The numbers drawn were 2, 5, 11 & 24.  There were eleven match three winners, Billy Porter, D & J Flanagan, Helen Kenlar, Amanda Walsh, T.G.-M.B.I.L, Diarmuid Donenes, Majella McLaughlin, Una Lynch, Ciara & Eamo, Pat & Maureen Doyle & T Kavanagh.  Next week's jackpot will be €17,300
ATHLETICS AGM
The Annual General meeting of the Roundwood and District Athletic Club takes place on Thursday 3rd December in Aras an Tochar at 8pm. All welcome to attend so come along and participate.  Nomination papers can be requested from Trisha at trishamolloy@eircom.net.
ATHLETICS
Leinster Cross Country.  Well done to all the athletics who took part in the uneven ages Cross Country in County Wexford at the the weekend. Eve Leacy, Luke Mc Kenna, Amy Byrne, Charlotte Pelz Olufade, Jack Daly, Denis Leacy, Tom McKenna.  Cross Country Team Results at Avondale  Congratulations to the Boys under 10 who came second Denis Leacy, Jack Daly, Tom McKenna,and Charlie Colleran.  Girls under 10 who came third Chantelle Heatley, Kate Little, Ella Davis, Aibhe Fagan,  Also Congratulations to the Girls under 11 who came third in Roundwood recently. Chantelle Pelz Olufade, Aimee Byrne, Chantelle Heatly, Ava Doyle.  Training on a Tuesday night continues at Aras an Tochar at 6.30 with Anne Marah. So get out your runners and come along to a very enjoyable training session and shed those few pounds before Christmas.
CODERDOJO
A meeting for anyone interested in mentoring a Coderdojo in Roundwood will take place in the Old School on Monday 16th of November at 8pm.
YOUTH CAFÉ
The Halloween Prep Night Youth Café for teenagers from Moneystown, Laragh & Roundwood  held recently was a great success. More adult leaders are required to ensure that the Youth Café can continue. A meeting for parents or those interested in becoming youth leaders will take place on Thursday 12th of November at 8pm in the Old School.
PILGRIMAGE TO MEDJUGORJE
October 5th 2016 for a week. Cost €645.00 per person sharing. Discount of €100.00 off price if paid in full by December 11th.  Price includes Flights ( Aer Lingus) Insurance , Half Board  Accommodation in House beside Church, Transfers to and from Medjugorje.  For more information / booking contact Mary King on 087 2185067
WHIST
Next whist will be on tonight, Wednesday 11th November
PRAYER MEETING
Prayer Meeting is held every fortnight in the Parish Centre in Roundwood at 7.30 pm  Dates for November are  24th of November All very welcome to come along.  For  more information contact Mary King on 087 2185067.